Will your next car even look like a car at all? As autonomous vehicle technology continues to move closer to our daily lives, thinking about what the future looks like for passengers becomes more and more important.
Transportation as a whole is changing, regardless of – or perhaps on a parallel path beside – autonomous cars. Whether I look at the rise of smartphone technology that has made ridesharing services into multibillion-dollar global companies, or at the cutting edge tech that will change the way passengers live, work and play in the coming decades, innovations are coming quickly.
The automotive evolution will almost certainly change our world outside the vehicles as much, or more than, it changes their insides.
Apps, Services and Commerce
Earlier this month, we had the opportunity to once again host a full-day autonomous vehicle conference, Connected Cars and the Passenger Economy. Car OEMs, Tier 1 manufacturers and startups from the forefront of future product and application design came together to discuss and share visions for solutions and services for the passengers of today and tomorrow. Over 200 people attended the event, jointly organized by Autotech Council and Telecom Council, at our Milpitas, California, campus.
This meeting, which we hosted for the third year in a row, focused on new apps, services and commerce that will emerge from the coming era of autonomous vehicle technology. The innovation necessary to make autonomous cars a reality on public roads ranges from purpose-built sensors required to make them self-driving, to the storage and compute capabilities that run their software, AI and data at the Edge, and all the systems that will make them safe. These data-related topics are where the most interesting discussions happen!
The day left me with an amazing feeling – The future is exciting! The changes that will appear because of autonomous tech will have a huge impact that will likely change our world.
Upnext @autotechcouncil is talk on passengers of the future. Our Garima Mathur who's focused on #automotive shared she's seen storage needs within cars significantly grow since joining 5 yrs ago. With data to be a 2.1 Trillion dollar biz in #connectedcar, not surprising right? pic.twitter.com/ZlGOvbqYot

— Western Digital Edge (@WesternDigiEdge) April 11, 2019
Rethinking Automotive – from Data Monetization to Passengers of the Future
The event kicked off with our CTO, Martin Fink, delivering opening remarks about the automotive industry transforming with significant expectations. As Martin explained, it's less about mechanics and more about how people spend their time. With longer commutes, can connected cars add to our productivity? And how will we contend with the challenges of data… with the impact of weather variables… with truly ensuring passenger safety…? (Be sure to check out the Office of the CTO blog series for news and thoughts from Martin & his team.)
The meeting, moderated by Derek Kerton, Chairman of the Autotech Council, featured two analyst presentations. One covered smart mobility, vehicle data monetization, mobility as a service and smart cities, and the other presented data on what industry members think will be the most important technologies in the autonomous vehicle era.
I was honored to participate on the panel about Passengers of the Future. This was a great discussion and I got to share some of the ways tech will be built and deployed in cars for various roles: high performance, very reliable storage for enabling quick decisions on the road in autonomous driving, and economical storage for in-car infotainment applications. This was followed by many wonderful conversations about the impact of Western Digital Automotive Embedded Storage Solutions on the industry, and the great work we're doing with our partners.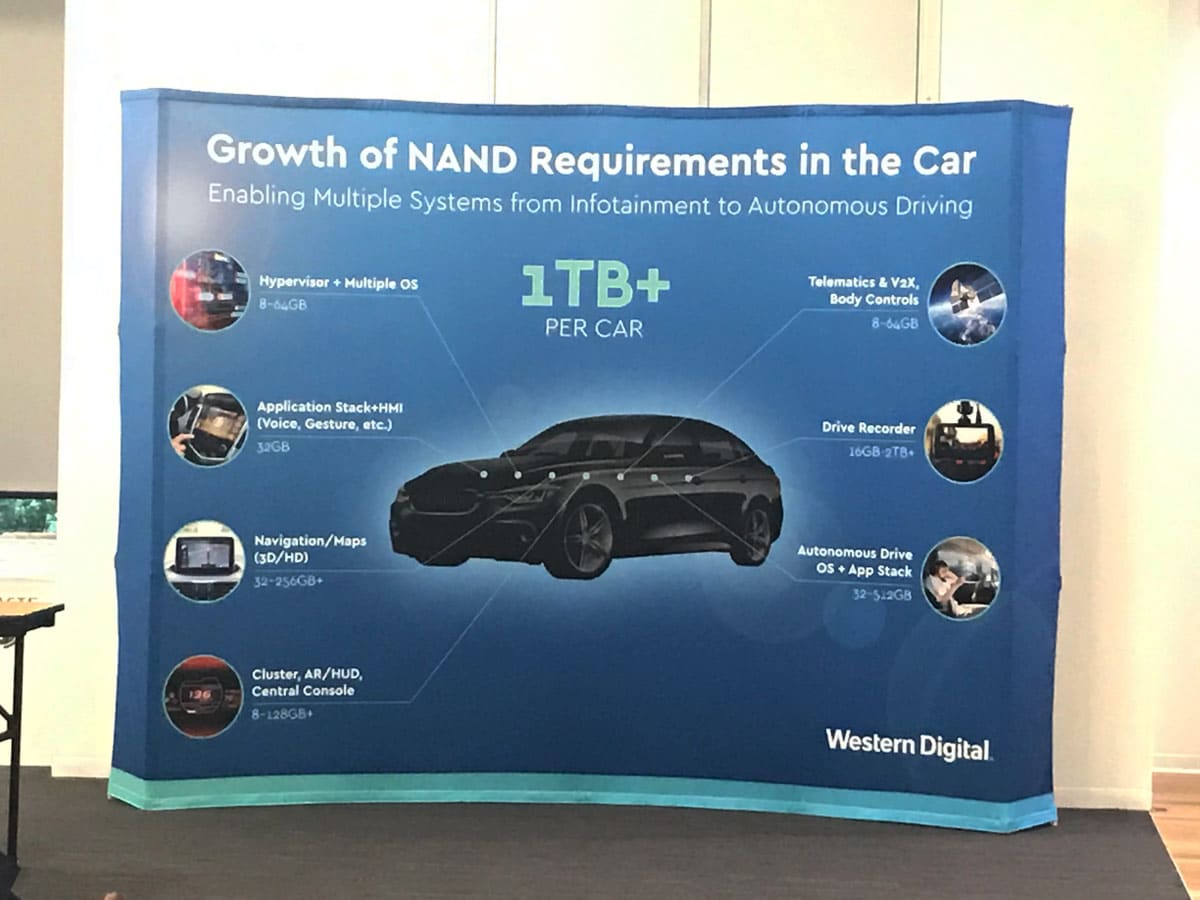 Future Automotive? Imagination is the Limit
Innovation will solve pain points for vehicle owners and passengers as this disruptive technology phase develops. At the heart of everything are the passengers and their experiences. This was visible in the many amazing moderated discussions and Q&A sessions, such as:
• Innovating for Passengers
• Connected Passengers
• Who Owns the Customer? Who Even IS the Customer?
A dozen Rapid-fire Innovator presentations ran the gamut of other exciting and new automotive topics, including:
• Carsharing enablement
• Teen driver safety scoring
• Avoiding traffic pollution
• Simulation software for autonomous testing
• Fleet operations optimization
Everything you can imagine was discussed, from radical exterior design – what if your autonomous vehicle looks less like a car and more like a pod? – to urban planning, retail possibilities during mobility (a convenience store in your autonomous bus), and, completing the full circle, seating options and interior design.
As always, the wide range of views throughout the day provided us all with a lot of value and insights. Data was key to many of the discussions – and the need to store it and analyze it. As cars become connected and autonomous, massive amounts of data are being created and consumed. It's great to see us at the forefront with Western Digital's portfolio of automotive grade products, designed for the evolving requirements of connected and autonomous vehicles.
Learn More
We'll be sharing more insights and hot topics from this Autotech Council meetup in upcoming blogs. Subscribe using the form below to get notified.
[WESTERN DIGITAL] Automotive iNAND e.MMC Embedded Flash Drives
[BLOOMBERG's VALUE OF DATA] How Driverless Cars are Addressing Reliability Concerns
[TWITTER] Follow Western Digital Edge and Autotech Council
Forward-Looking Statements
Certain blog and other posts on this website may contain forward-looking statements, including statements relating to expectations for our product portfolio, the market for our products, product development efforts, and the capacities, capabilities and applications of our products. These forward-looking statements are subject to risks and uncertainties that could cause actual results to differ materially from those expressed in the forward-looking statements, including development challenges or delays, supply chain and logistics issues, changes in markets, demand, global economic conditions and other risks and uncertainties listed in Western Digital Corporation's most recent quarterly and annual reports filed with the Securities and Exchange Commission, to which your attention is directed. Readers are cautioned not to place undue reliance on these forward-looking statements and we undertake no obligation to update these forward-looking statements to reflect subsequent events or circumstances.