With the sun setting on Oracle Database 11g premier support, customers will soon begin seeing additional support costs through the Extended Support program. It's time for Oracle customers to start planning large data center migrations to an Oracle database 12c environment.
The complete details of support specific to various versions of Oracle 11g can be found at Oracle support site MOS: 742060.1 and the Oracle support policy document. As the support site states, Oracle database 11g premier support ended on January 2015, and free extended support is available for Oracle Database 11.2.0.3 until August 2015 and for 11.2.0.4 until January 2016.
Making Migration Successful – Planning and Performance Evaluation
Having worked on similar data center migration projects for many years, I have seen customers focus on two main objectives as they prepare to carry out a database migration:
Evaluating and ensuring key database application performance for the latest database release, including preparation for future growth.
Exploring options to modernize infrastructure and reduce overall cost.
In this blog post I want to share how to realize these two stated objectives, and why customers need to evaluate flash for the various stages of their migration journey. Let me expand on each of these:
The first objective involves carrying out performance evaluation. For most database migrations, performance is the key criteria to manage the business user's expectation. These performance metrics are usually driven by service level agreements that need to be met.
The second objective of reducing infrastructure costs involves increasing system utilization efficiencies and switching to newer faster generations of available hardware. The emergence and adoption of flash storage now provides customers with this opportunity. Database storage requires high IOPS and consistent performance levels. Using fewer, faster flash storage devices over a large quantity of slow spinning hard disc storage devices helps achieve these migration objectives.
Beyond the costs savings for infrastructure, a small fraction of flash storage provides additional significant benefits for Oracle database 12c performance. Let me share with you some of our testing results and conclusions.
Testing Oracle 12c with SanDisk® Optimus SAS SSDs
Databases such as Oracle provide storage for many new workloads such as Cloud, Big Data/Analytics, Mobility and Social Media. These applications must deliver optimized performance to support timely business results.
SanDisk holds a rich and complete portfolio of solid-state drives (SSDs) that are tailored to meet particular workload requirements. We chose SanDisk Optimus SAS SSDs for our testing with Oracle 12c transactional workload. This family of SSDs address a wide range of enterprise storage and server applications, and particularly support high performance for applications and databases, while providing consistent quality of service (QoS). For customers, the wide range of storage capacities of the Optimus SAS SSD family, spanning from 200GB all the way up to 4TB, enables more flexibility for IT deployments.
The primary objective of our testing was to offer different possible options of implementing flash in Oracle Database 12c deployments as a consideration for hardware refresh for Oracle database migration projects. Secondly, the testing highlights advantages of SanDisk flash storage for Oracle 12c transaction workload for delivering extreme performance.
Testing Configuration
Our testing configuration comprised of Oracle database 12c on Lenovo x3650 server with Oracle Enterprise Linux 6.5 Operating System.
To simulate real world scenario wherein storage admins short stroke hard disk drives to increase drive performance, we employed the same technique by short stroking twenty-four high performance 15K RPM hard drives to 50% of their capacity. We utilized Optimus SAS SSDs to highlight SanDisk flash storage benefits. HammerDB tool was employed to populate the database and carryout transaction workload on Oracle 12c. Finally, we optimized all layers (Server/Storage/OS/database) to deliver a high performance platform and implemented best practices for setting up Oracle 12C on Oracle Enterprise Linux.
Testing Results
Using Optimus SSDs we evaluated various options for flash deployment. Whether it's using flash for cache only, leveraging flash for Oracle transaction logs or deploying an all-flash system, customers can choose their flash journey according to their Oracle 12c workload demands.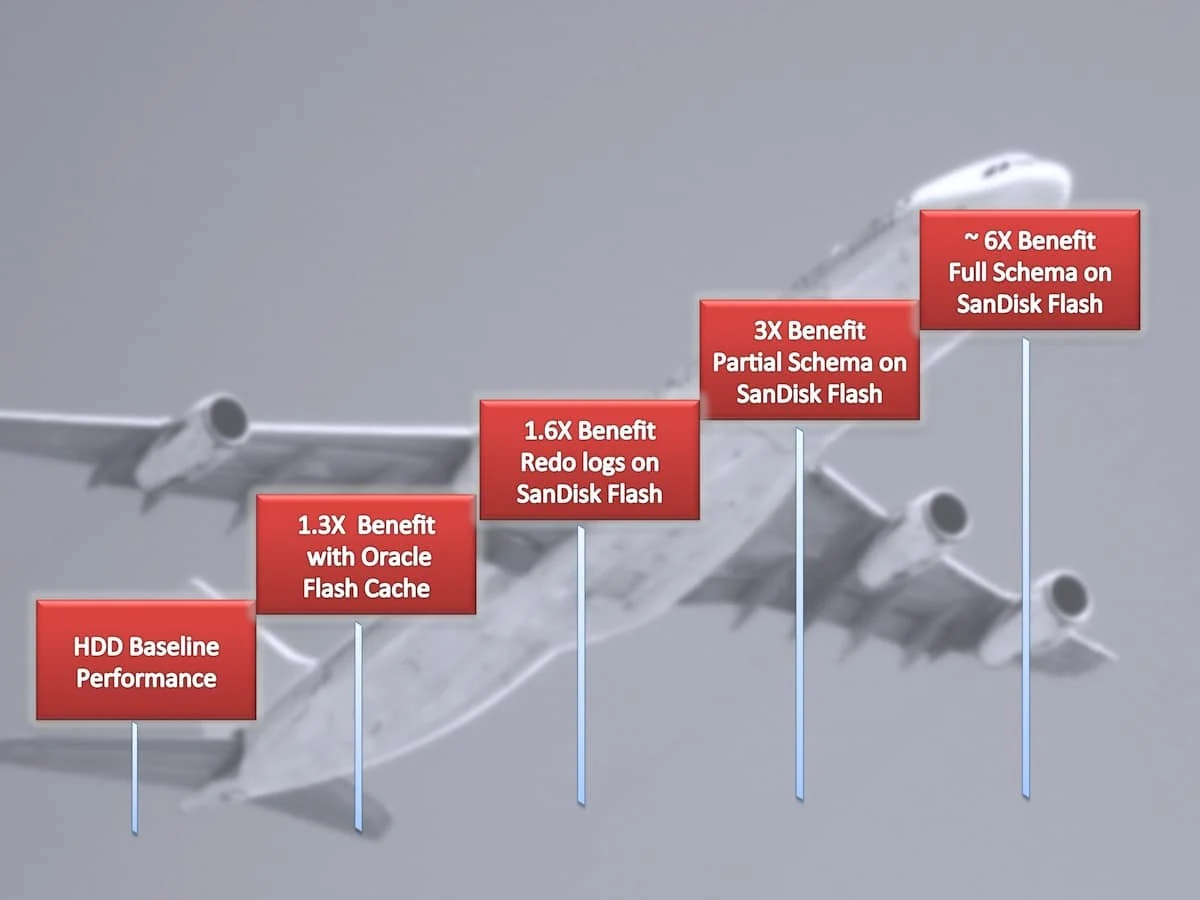 I would like to highlight few key points based on the test results as you can see in figure 3:
SanDisk SSDs delivers close to 6X performance benefit over HDDs for Oracle database 12c transaction workload
The 6X performance benefit was achieved using just one sixth of the quantity of hard drives (four SSDs vs. twenty four 15K short stroked high performance HDDs)
Customers can start their flash implementation journey with simple Oracle flash cache feature and graduate to different levels of database storage on SanDisk SSDs. Flash is not a one size fits all and can be tailored according to the particular performance, capacity, and budget needs.
Conclusion
For a successful Oracle 12c migration, begin planning by identifying key customer facing applications and evaluating their performance. Flash can alleviate performance bottlenecks and help reduce infrastructure costs. As you evaluate your migration path, make sure to map out at your flash needs. SanDisk flash storage can help increase Oracle 12c database performance and help customers achieve better ROI on infrastructure cost by increasing the system utilization to a great extent with far fewer SSDs. These data points should provide confidence for customers to make successful transition to SanDisk flash storage for their Oracle 12c migration plans.
For complete details of how customers can get started with simple flash deployment for Oracle databases and realize greater performance benefits and storage costs savings; stay tuned for SanDisk Flash storage for Oracle 12c transactional workload white paper.
Share your Feedback
How are you preparing for your Oracle 12c migration? Let me know in the comments below.