Keeping up with geospatial big data can be a daunting task, particularly when it comes to transforming and garnering value from it. Here's how one international company built an open, scalable, and cost effective solution to help them unlock the power of geospatial data.
What is Geospatial data?
Geospatial data (or spatial data) is basically all the data that surrounds us. It is data identified with a geographic location and features that can be mapped. For example, the spatial attributes of a person's position on Earth (such as their house, workplace, street address, a river, etc.).
From a business point of view, spatial data can be anything from office locations, sales areas, contact data, or travel routes. It can serve as a key component of a business' strategy. For this reason spatial data is of extreme importance and the volume collected can be pretty extensive.
The Big Data Challenge
There are numerous industries, such as state land cadaster, urban cadaster, road sector, hydro and electric power, agriculture and forestry, and geology that rely on remote sensing technologies. These include digital-aerial photography, aerial-laser scanning, thermal-aerial survey, or space imagery. These all generate massive amounts of geospatial data.
The Big Data challenge for companies that create and process geospatial is that raw data needs to be stored in the highest resolution and detail as possible. Datasets are growing very fast, and need to be kept online for continuous exploitation and monetization. Historic data has growing value.
Furthermore, there is a processing challenge. Raw geospatial data needs to be transformed into orthophoto, topographic and thematic maps, 3D models of cities, etc. Large datasets need to be processed and formatted according to client needs and requests.
Building an Open, Scalable Infrastructure for Geospatial Data
Aviation Accounting Center (АAC, AerogeoinformaticsTM) is a leading geoengineering company that provides geospatial data collection and processing and all types of earth remote sensing. The company is based in Ukraine and executes orders worldwide.
[Tweet "How to build a scalable, open #geospatial infrastructure? Here's a #bigdata success story"]
The data gathered by Aviation Accounting Center, as well as the results of their processing, are unique, valuable and above all, massive. For this reason, servers and data storage systems serve a critical role in their IT infrastructure and have a great affect on their ability to deliver services and their overall IT budget.
AAC needed a better storage solution than their standalone servers to meet the demands of Big Data. They required a pathway for continuous capacity growth with performance that must remain consistent even as the volume of data grows. Availability to the data analysts should be 24×7 and instantaneous across the network.
Brand-name turnkey solutions proved to be to too expensive and came with the risk of vendor lock-in, making future upgrades more expensive than desirable.
Ukranian system integrator Entry (a company that focuses on the manufacturing high-density hardware optimized for compact, manageable, breakdown-tolerant data systems) proposed a software-defined solution (SDS) leveraging our Ultrastar® Data60 storage platform and Open-E JovianDSS software.
The Ultrastar Data60 – Next-Generation Software-Defined Storage
The Ultrastar Data60 storage platform is a key element of next‑generation disaggregated storage and software-defined storage (SDS) systems, delivering high density and the flexibility to balance performance with cost.
Designed for Big Data, this storage platform leverages Western Digital's unique Symbiotics DesignTM approach. It was developed based on a holistic view of devices, platforms, and their interaction, and delivers unique technologies to improve long-term reliability – learn more here.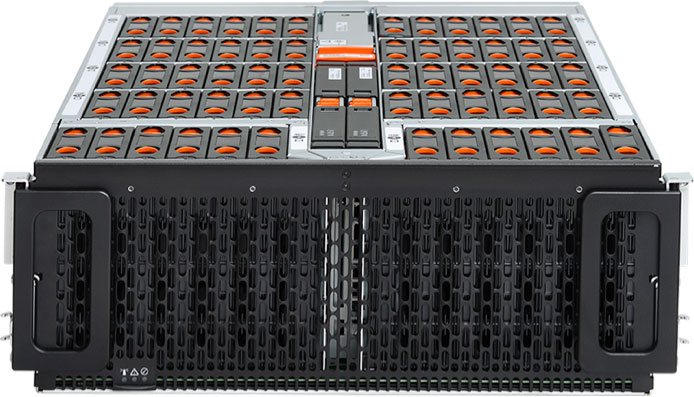 Geospatial Big Data – Scaling Up and Out
The solution installed at AAC is based on a High Availability load-balanced storage setup with Open-E JovianDSS, a specialized OS based on Linux and the ZFS file system. The cluster is built using two servers and the Ultrastar Data60 Storage Platform with a shared direct access.
The Ultrastar Data60 platform, which can scale out in numbers of enclosures and scale up in drive density and individual HDD capacity, is connected to two mirrored x86 servers with high-bandwidth NICs, all managed by the JovianDSS software, based on ZFS.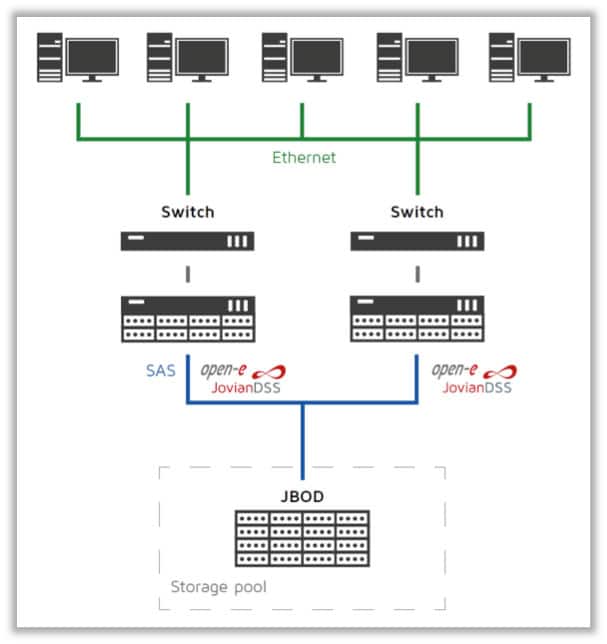 Unlock the Full Potential of Data
Like other industries, the geospatial space is seeing accelerated development in Big Data. Whether it's new mobile sensor platforms or real time analysis, organizations are transforming their IT infrastructure to deliver new services.
Learn more about how AAC build open, scalable, shared infrastructure by downloading the case study.