"Something as seemingly behind-the-scenes as a drive platform could help organizations reduce the hidden costs of storage." This is a quote by Scott Sinclair, analyst at the Enterprise Strategy Group (ESG), and it's referring to an industry-wide problem – failure incidents.
Doing the Right Thing Pays Off
You know how we're always told to do the right thing? Well, that also applies to engineering innovation. When we set out to design a new generation of storage enclosures, there were two top priorities in improving design. One was to improve the cooling – electronics are more reliable and run happiest when they are not too hot. The other was to reduce the amount of vibration impacting the drives – today's extreme capacity hard drives pack a lot of bits onto platters, which requires higher precision and it can be a challenge to keep read/write heads on track.
The engineering team's advantage going into this is the intimate knowledge of our hard drives and how they operate in data center environments. For those who follow this blog, you know that we came up with two significant innovations, ArcticFlow™ and IsoVibe™. We launched the products knowing they were going to be great in the field, but we only found out how great they would prove to be when we started seeing the field quality reports. Over time a very significant picture emerged – we were seeing a massive 62% reduction in the drive field return rate*.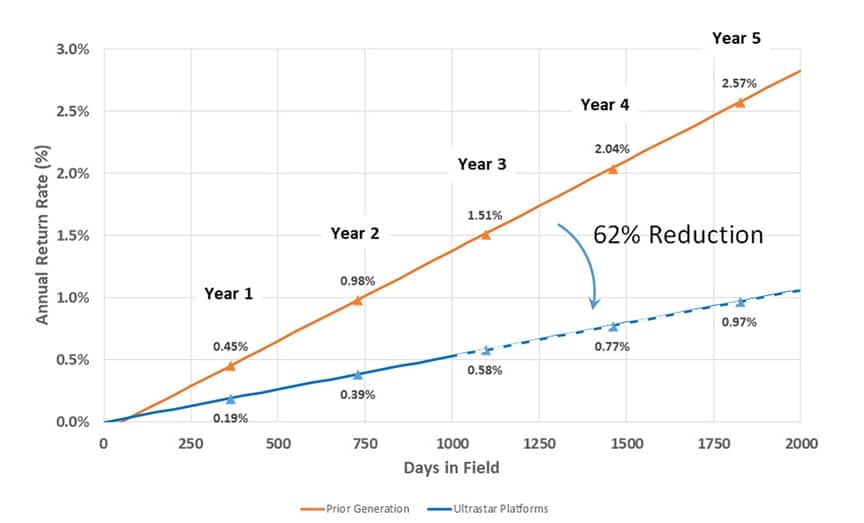 For anyone running a data center, the ramifications are clear: Fewer failed drives means less rebuild times which means better performance and less risk of losing data. It also means less of your staff's time spent on replacing drives and together with power and cooling savings it translates to a significant reduction in costs. But before we dig into the detail of all of that, let's get a quick reminder of the technologies we're talking about.
ArcticFlow Thermal Zone Cooling – Keeping Drives Healthy by Keeping them Cool
Cooling dense shelves of drives that are working hard in the data center is one of the challenges of any data center. Generally, air from the cold aisle is forced through the small gaps between the drives all the way through to the back of the enclosure. By the time the air reaches the rearmost drives, which might be eight rows back, it's not doing nearly as much cooling and those drives are often running hot because they are not being cooled effectively.
ArcticFlow is a creative way to solve that problem by dividing the drive bays up into their own cooling zones, front and rear. We give up a little in ultimate density to provide air ducting inside the enclosure to bring in cool air and to exhaust warmed air more efficiently.
IsoVibe Vibration Isolation – Keeping Your Heads on Track
Vibration is the HDD head nemesis. The massive capacity available in today's hard drives are primarily a result of squeezing the tracks tighter together. This dramatically increases the difficulty of keeping the read/write heads on track. While the amazing work done by the servo engineers mitigates the effects of vibration, the sources for vibration in an enclosure are plenty. Whether it's from other drives as their actuators seek, from fans or air movement. The source can also be external, from adjacent enclosures or racks being serviced. Errors can even be caused by loud noises, such as shouting.
The problem that emerges is a loss of performance as additional latency is added to operations. The drive also registers a position error signal or PES. If a host bus adapter or RAID controller sees too many of those it can identify the drive as potentially bad and can even flag it for replacement.
To see how IsoVibe works, read more here.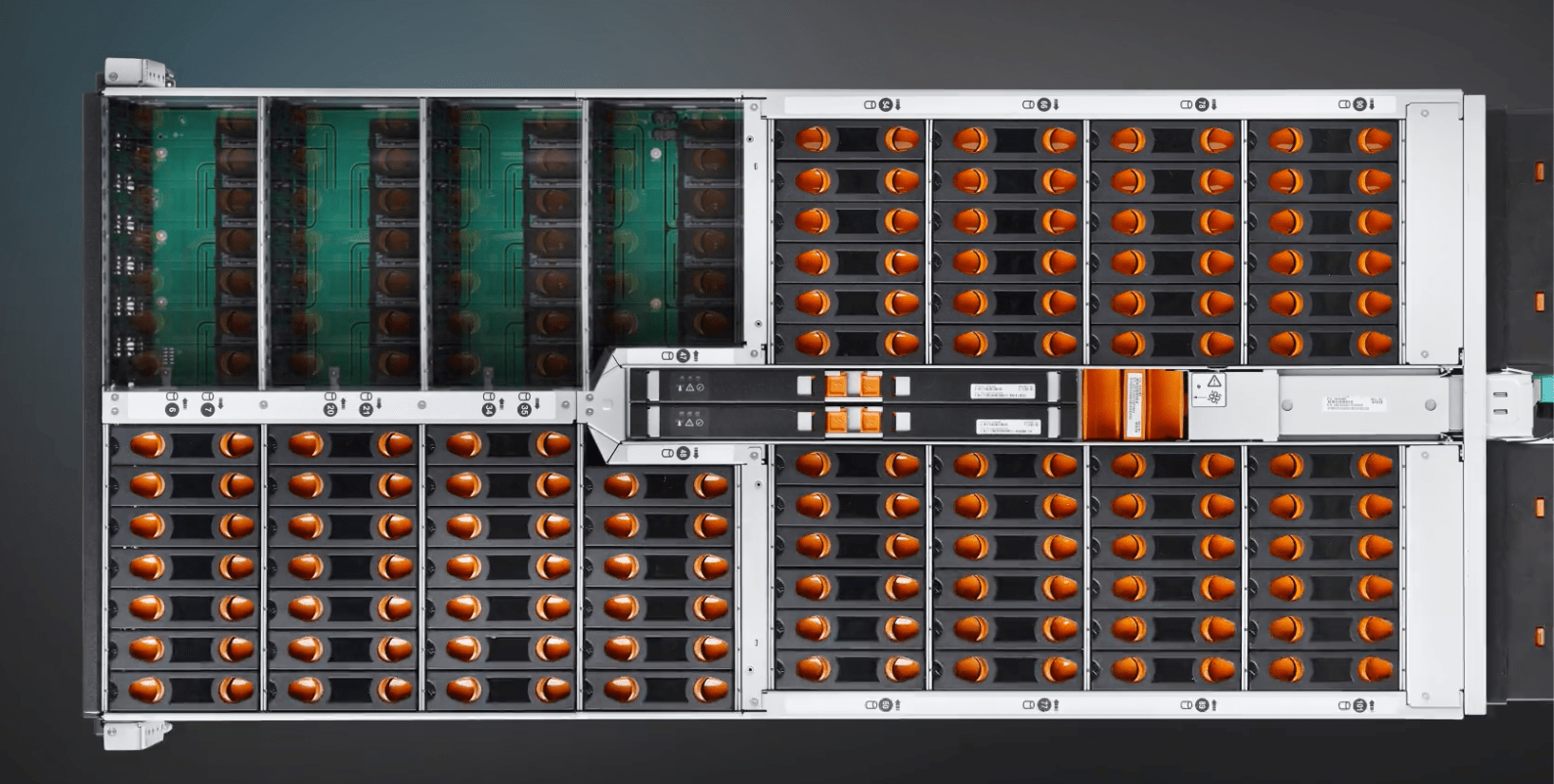 62% Reduction in Drive Field Returns – Save Costs, Save Your Data
Coming back to our 62% improvement in drive return rates, the numbers are statistically significant because they involve hundreds of thousands of drives of the same drive family, capacity points, from the same vintage, and going into similar workload environments. The difference was in the enclosure alone.
Our previous generation enclosure did not have ArcticFlow nor IsoVibe. We saw that most of the drives that are returned from the field are actually good drives, they had been flagged for replacement as a result of temperature excursions or position error signals. And we sought to fix this.
The benefits to the data center are dramatic. Fewer drives needing to be replaced so fewer trips by a technician; reduced costs of cooling and power; fewer RAID groups running at lower performance while a drive is replaced and rebuilt; and perhaps most importantly, less likelihood of loss of data availability while a RAID group runs in degraded mode. So, doing the right thing in engineering is certainly paying off for our customers.
Review Your Infrastructure
This morning we announced the worldwide availability of 16TB and 18TB capacities of our Ultrastar® HDDs and Ultrastar storage platforms – Ultrastar Data60 and Data102 JBODs, and Serv60+8 storage server. These deliver the industry's highest storage density in a fully optimized platform that takes advantage of these two technologies.
ESG wrote a white paper about these innovations, how not all white boxes are created equal and what this means for your overall data center costs. You should check it out: The Hidden Cost of IT Is Weighing Down Digital Business
I also talked with IDG about this in a recent webinar about building modern storage infrastructure.
---
If you're ready to review your infrastructure andreduce the hidden costs of storage, visit our Platforms Innovation page to learn more.
* Based on observed and projected drive return data, does not change product specifications and does not constitute a warranty