This post was updated on 7/8/2020 to reflect new 18 TB storage capacities, energy-assisted technology, and triple-stage actuator features.
As data continues to grow, it adds complexities to the storage architecture of our customers. Whether data is generated from healthcare records, consumer habits, or financial transactions, reliable storage and quick access to the data in order to extract valuable insights are critical to businesses. Storage of increasing volumes of data over longer periods of time coupled with quick, on-demand access to the data is driving IT managers in data centers towards higher capacities and performance while needing them to keep acquisition and operating costs in check. With this in mind, we'd like to welcome the WD Gold TM HDD into our hard drive product portfolio.
Your data is critical and your business needs to keep running; trust #WDGold Enterprise Class SATA HDD. Check out our proven stats here.

Western Digital Data Center Solutions (@WesternDigiDC) July 8, 2020
WD Gold, Geared for the Enterprise
The WD Gold HDD comes in the form of a family of enterprise-class SATA hard drives that enables customers, including ones with single-unit or small order requirements, to deploy enterprise-class drives for their demanding workloads. This family of hard drives (WD Gold DC HA750) is derived from our flagship Ultrastar SATA series, using the most popular features specifically designed for use in enterprise-class server and storage systems –purpose-built for heavy workloads and a broad array of big data applications. WD Gold DC HA750 utilizes a commercial implementation of energy-assisted magnetic recording (EAMR) technology and a triple-stage actuator (TSA) to store data more densely, efficiently, and precisely.
Offered in a full range of capacities from 1TB to 18TB, the WD Gold drives can be deployed across traditional storage arrays, rack-mounted storage enclosures, and server-based distributed storage systems. The HelioSeal™ technology in the drives over 12TB offers superior storage densities and extreme power efficiency. Thus, these drives provide flexibility to customers who want to lower initial acquisition costs as well as customers who want to build out a cost-efficient infrastructure at low Watts/TB or $/TB.
Seamless and Secure Deployment
The WD Gold drives come in 3.5" form factor for easy deployment within the data center and deliver 6Gbps SATA III performance with 7,200 RPM to provide fast performance at low acquisition costs. They use the proven Conventional Magnetic Recording (CMR) technology to optimize performance for workloads involving random writes that are commonly used by customers. They also provide secure erase (SE) with sanitize overwrite functionality for the data. This combination of features helps customers to efficiently scale their data center capabilities while effectively managing the total cost of ownership (TCO).
Trusted Reliability
With workload handling capability of 550TB per year, reliability of up to 2.5M hours MTBF, and backed by a five-year limited warranty, these hard drives offer a highly dependable, durable enterprise storage solution to customers and reunite them with their trusted WD Gold product line. Vibration protection technology also offers improved, consistent performance.
Availability
All capacities of WD Gold hard drives are available through Western Digital's website, system integrators, distribution partners, and value-added resellers (VARs).  For more information on features, specifications, and ratings, shop WD Gold on our online store.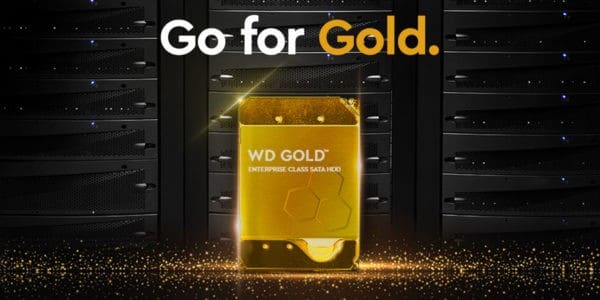 Learn More