Protecting our planet takes the collective effort of a global community of like-minded environmental advocates. To bring this vision to life, nearly 1 billion from around the world come together each year on Earth Day – the world's largest civic-focused day of action1.
This worldwide event began in 1970, as millions of citizens took to the streets to demand accountability from public officials to address the harmful effects of industrial development pollution1. As awareness about the environment grew, landmark changes in government created new laws and programs to support protecting the planet. From these historical civic efforts, Earth Day was born.
Using Data to Help Protect the Planet
At Western Digital, we're helping continue this tradition of environmental responsibility. We architect data to enable the world to solve its biggest challenges, including climate change.
In 2017, Western Digital partnered with the United Nations Global Pulse and hosted the Data for Climate Action (D4CA) Challenge. A global data innovation competition, the D4CA Challenge saw innovators, scientists and climate experts harness the power of big data and data science to accelerate action for social good. The winning team, based out of a prestigious public research university and national institute in Mexico, proposed a way to significantly reduce air pollution in Mexico City by creating a best-fit network of electrified public transportation vehicles. It's incredible to imagine data being used to potentially save thousands of premature deaths from smog.
How Western Digital is Making an Impact on Earth Day
Our employees are also taking action, recognizing the impact we can make when we think big and act on a global scale. In 2018, Western Digital employees made a positive impact by engaging in many environmental volunteer activities to make the world a better place for all. This year, we're back at it again, with a full campaign of Earth Day events and activities. Here are a few highlights: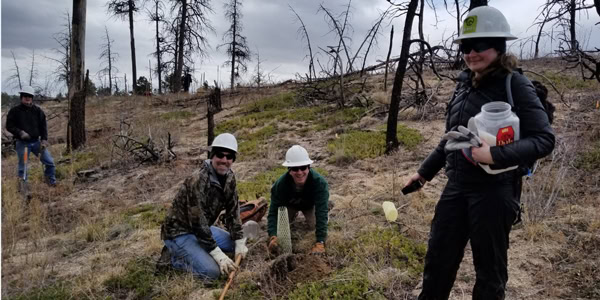 Haifa, Israel: Volunteering alongside their family members, Western Digital Israel employees will help clean the Ashkelon National Park and the Ha'Karmel Forest.
Monterey, California, United States: We'll be partnering with an aquarium in Monterrey to pick up plastic waste on local trails and beaches and help keep the city's wildlife sanctuary clean.
Prachinburi, Thailand: Employee volunteers will put in place fire protection lines to protect wild animals, build water dams, and make salt-lick soil to increase food sources for wild animals.
Johor, Malaysia: Taking the concept of "plogging"—picking up trash while jogging—one step further, employee volunteers will hike and pick up trash in the Sungai Pelepah Kiri forest.
Delhi, India: Setting an ambitious, yet attainable, goal, our team in Delhi aims to plant 100 trees in Suraj Kunj, which could absorb nearly 4,800 pounds of carbon each year.
Environmental preservation is one of Western Digital's corporate philanthropic pillars, a focus which has enabled us to make a meaningful impact in the communities where we live and work. We've made a strong commitment to grow our company in a sustainable way. It's important for us to give back and respond to the needs of our communities, as we strive to leave the world better than we found it.
---
Sources:
Earth Day 2019 | Protect Our Species. https://www.earthday.org/earthday/