As 2015 approaches, I wanted to conclude my last blog of this year by discussing our latest all-flash Virtual SAN (VSAN) testing. and to share some of our plans for next year for VSAN and other areas of virtualization.
Before getting into the results of our latest testing, I want to point to several of my personal highlights from this past year:
3-Node VSAN: The VMware Horizon View VDI reference architecture (co-branded with VMware) got a great deal of attention this year and I hope the deployment and technical considerations guide has been helpful to VDI administrators. It's great to see the interest in our efforts and I'll be sharing more about our work with Virtual SAN.
VDI with ULLtraDIMM: VMworld was a great industry event and we had the opportunity to showcase our solutions with a multitude of partners. I was particularly happy to see our ULLtraDIMM solution on CRN's 'must see' list of storage offerings at the event.
Atlantis USX 2.0 – Our partners at Atlantis won "Best of VMworld 2014 Gold Award" with their All-Flash Hyper-Converged Storage System, leveraging SanDisk® ULLtraDIMM technology. It's innovative technology like this that helps customers manage data across their datacenter and enable delivery of more storage capacity and performance at a lower cost.
Now let us go back to discuss some of our latest testing:
VMware VDI All-Flash Array Testing
As I've shared in some of my previous blog posts, VMware does not support an all-flash deployment in Virtual SAN 1.0. However, for our testing we substituted HDDs with SSDs and VMware has Knowledgebase articles outlining step by step how to do this. We carried out this particular series of tests to evaluate if we could scale beyond VMware's supported limits by incorporating flash in VSAN's capacity layers.
The answer to our testing is both "Yes" and "No". Let me discuss this by explaining the two separate tests we performed.
Test 1:
Even though each VSAN node supports a configuration of 100 VDI desktops, we can easily scale far beyond that. The below screen shots are taken from "esxtop" and Horizon View Administrator console.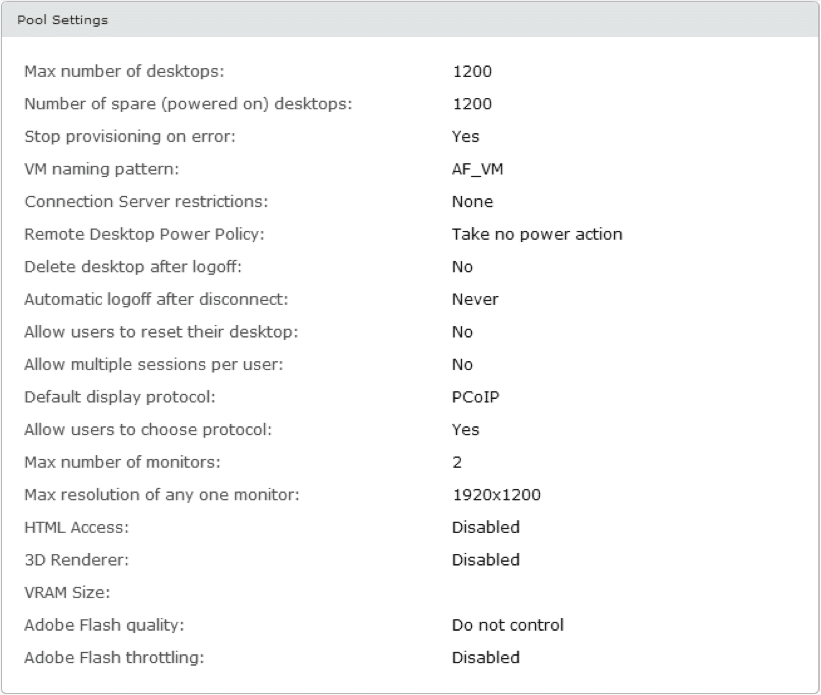 As you can see we have created an automated floating pool of 1200 desktops, far beyond the 100 limit. The ability to scale was a topic I discussed also in my last blog, where I explained that the number of VMs in each node will be driven by the VSAN component limits, as long as we do not exhaust them.
The below screen shot shows the "esxtop" for the 3 nodes powering 1200 VDI desktops.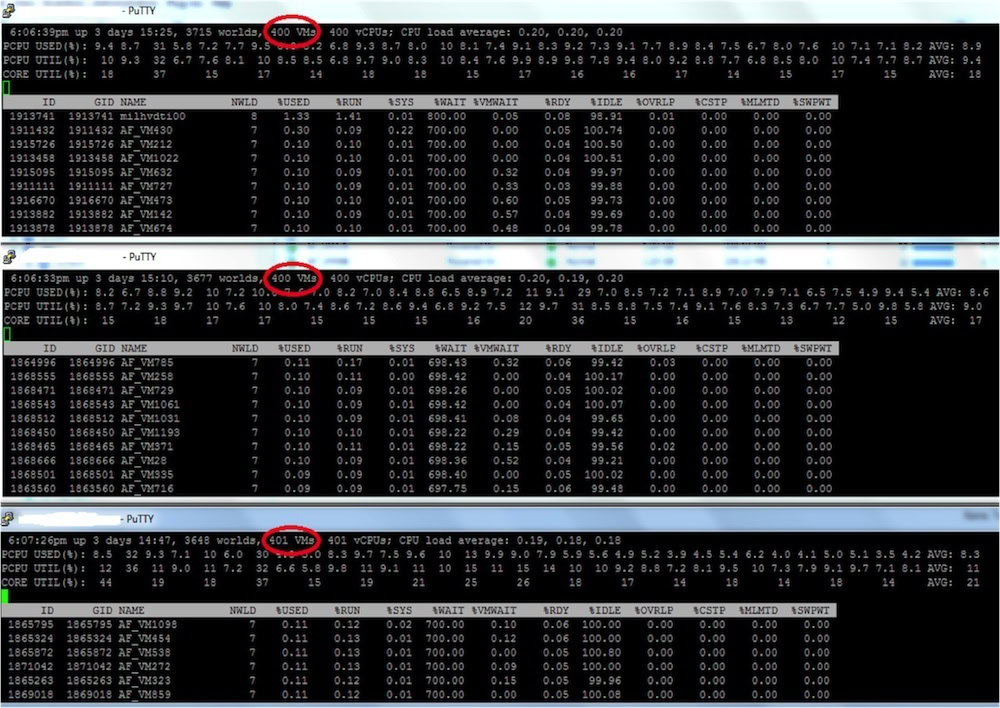 Test 2:
Test1 shows that VSAN can scale beyond 100 desktops per node. But when an actual workload is running inside the desktops, the number of VMs per node is reduced by a great extent, depending on computing and storage usage.
To be able to compare with previous VSAN test runs, we used the same desktop image and created the pool. We used Horizon View 5.3 and VSAN 1.0 environment. We used ULLtraDIMM in VSAN cache layer and Optimus SAS SSD drive in capacity layer. In this real use-case workload test, we chose to run the power user profile inside the desktops, and we used VMware View Planner workload generator to scale. We have seen that CPU becomes saturated as we approach 5-6 VMs per core and with that limitation we could scale up to 318 VDI desktops using the 3–node VSAN.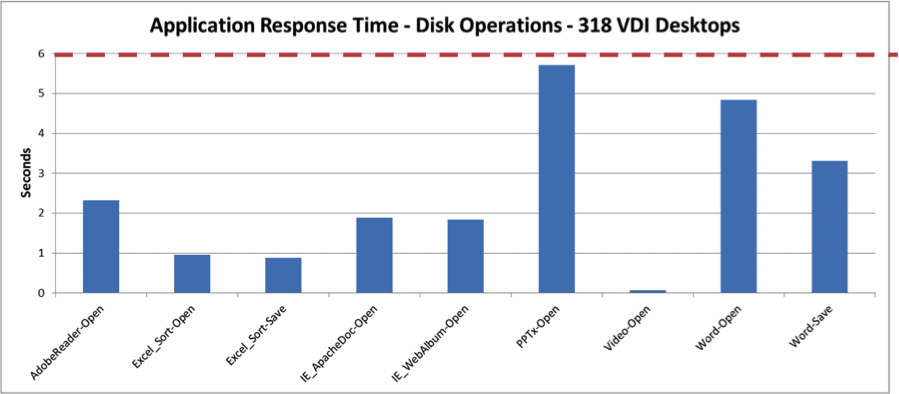 Conclusion:
What we have seen from our tests is that the number of virtual desktops in a 3-node VSAN cluster depends on the type of user profile you would like to execute. The less work the user performs, the more desktops that can be accommodated.
Since VMware Horizon View 6.0 and VSAN 2.0 (Beta) is in place, I will be repeating the experiment using a different user profile and desktop image according to profile need (rather than using the same profile as in our previous testing). I am also planning to execute the all-flash VSAN tests with a new set of hardware and I hope to share the results with you after the holidays. Stay tuned! Until then, I wish you all a very wonderful new year and I'm looking forward to sharing more virtualization solutions and insights in 2015!