Storage has been in the center of disruptive change in IT. Traditional data center infrastructure is declining as more spending and workloads go to cloud and new infrastructure choices such as software-defined storage (SDS), all-flash storage, object storage and hyperconverged solutions.
We're in the Middle of "Payphone Moments"
These changes are happening both rapidly and comprehensively. The "payphone moment" may not be so far away. What's a 'payphone moment'? 15 years ago, when you used a pay phone, you likely had no idea it'd be the last time you use it. Same will be with many of technologies we're deeply familiar with and deploy today.
The shake up in technology is following the changing goals of IT leaders. A poll of 115 respondents from Gartner's Research Circle Members[1] showed that the most important storage goals for IT leaders are:
76% – managing data growth to support business
51% – ensuring high availability and performance of primary storage
46% – improving TCO
High availability and performance of primary storage have been what drove the storage industry for decades. However, it's the current explosive rate of data growth and its ensuing storage costs that are driving the need for new, efficient infrastructure solutions. According to Gartner[2], "by 2021 approximately 30 percent of the of the global storage array capacity installed in enterprise data centers will be deployed on software-defined storage (SDS) or hyperconverged integrated system (HCIS) architectures based on x86 hardware systems, up from less than 5% today.".
The Definition of Software-Defined Storage Remains Murky
I found it particularly interesting that SDS is defined by Garter in two disparate parts: infrastructure and management[3]. Infrastructure SDS is what most of us are familiar with and utilizes commodity HW such as x86 servers, JBOD, JBOF or other and delivers features through a software orchestration. Management SDS, on the other hand, controls above hardware but also controls legacy storage products to integrate them into a SDS environment.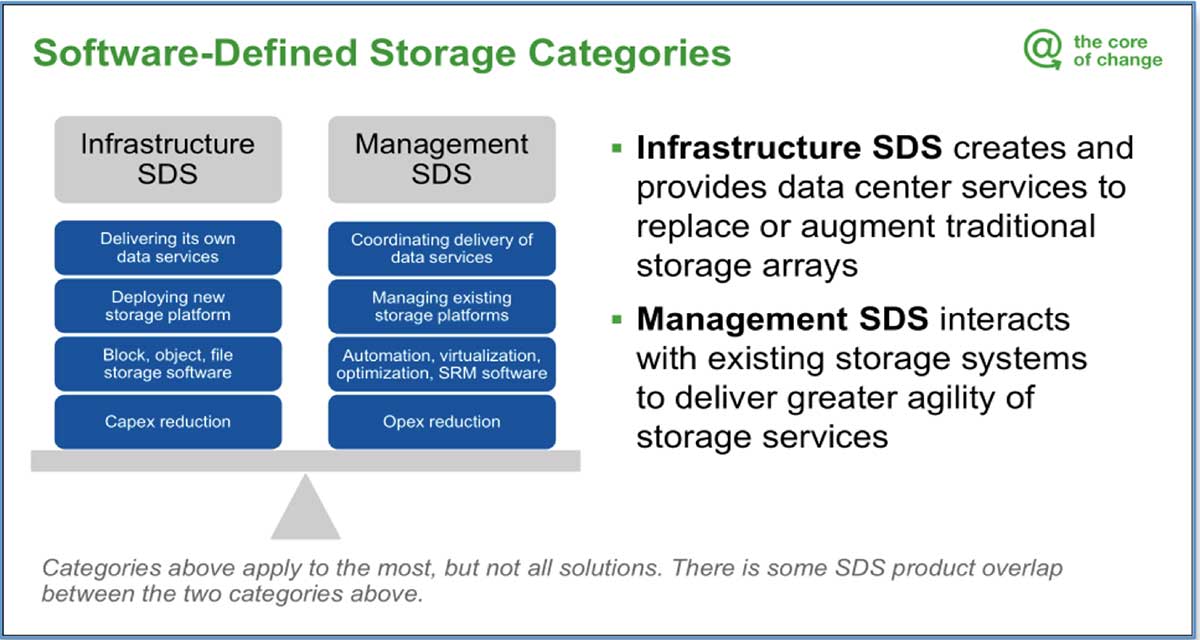 SDS is still maturing to fulfill all needs and there are many, different options to choose from. It is becoming increasingly difficult to differentiate products based on features alone. Key decision points are including financials, post-sales support, and integration with ecosystem (e.g. public cloud).
Three Rules to Software-Defined Storage You Should Follow in 2017
No matter the technology, storage should, first and foremost, support the business strategy and tactical needs of the organization. In the new era of storage we are all looking for storage to deliver efficiency, agility, cost, scalability and predictability. But as you choose your SDS solution and strategy for 2017, here are three rules you should follow to ensure success.
1. Make sure your Software-Defined Storage can Integrate with the Cloud

Even if you are not using cloud services today, buy insurance for the future. By 2020, 68 percent of the cloud workloads will be in public cloud data centers, and a corporate "no-cloud" policy will be as rare as a "no-internet" policy is today.
Amazon's S3 interface is becoming the de facto protocol for communication. So make sure your SDS solution can support this to seamlessly integrate with cloud protocols.
2. You Need to Look at Storage Management
Understand how your SDS is managed alongside all your legacy storage. You want to have a clear view of what capacity and performance is being used – where are you over provisioned? Where do you need more performance?
A survey of current Gartner clients as shared at one of the keynotes explains why the management part of SDS will become so critical[4]: Current IT Models Are Not Working
75% of business critical storage is not well managed
Less than 35% of companies have an updated Business Impact Analysis
Less than 25% have a service catalog portfolio
80-85% Have no IT financial system of record
To make best investment, storage management is coming to high visibility in 2017.
3. Understand Your Range of Choice
SDS brings forth the end of the monolithic era. You now have the ability to deploy solutions customized to your exact needs. You can build a hybrid of anything and everything – tier I and tier II in a single enclosure, mixed type of disks and media (HDD and flash, SATA and SAS, etc). Whether it's taking advantage of high density disks and getting 720TB of capacity in a 4U chassis or, choosing a high-density flash platform like InfiniFlashTM the options are expanding. You can also expect high performance flash platforms to deliver unprecedented performance (did anyone say 18 million IOPS?), so you can literally tune up or down the type of storage you want.
The Bottom Line
The bottom line is that we are moving into a hybrid world with hybrid tiers, hybrid clouds, and hybrid solutions that take advantage of these new models. With the onslaught of data, growing performance demands and need for unprecedented cost efficiencies comes an essential requirement to understand your storage usage and how you manage both legacy and new systems on premise and/or in the cloud. The good news is that you have a broader choice than ever to construct varying performance and capacity capabilities to meet your exact workloads and ensure flexibility as your infrastructure evolves to meet new demands.
_____________
[1] Gartner Presenation, Dissecting the TCO of Software-Defined and Hyperconverged Systems Versus Traditional Architectures, Julia Palmer, Gartner Data Center, Infrastructure & Operations Management Conference, December 2016
[2] – Gartner Presentation, How to Benefit From Software-Defined Storage in the Age of Bimodal IT: From Traditional Applications to Containers, Arun Chandrasekaran and Julia Palmer, Gartner Data Center, Infrastructure & Operations Management Conference, December 2016
[3] –Gartner Presentation, How to Benefit From Software-Defined Storage in the Age of Bimodal IT: From Traditional Applications to Containers, Arun Chandrasekaran and Julia Palmer, Gartner Data Center, Infrastructure & Operations Management Conference, December 2016
[4] Gartner Presentation, Gartner Keynote: The Infrastructure and Operations Scenario: @ the Core of Change , Dave Russell and Robert Naegle, , Gartner Data Center, Infrastructure & Operations Management Conference, December 2016