When Kryz Reid, lead guitarist for rock band Third Eye Blind, goes on tour, he packs a short list of essential items. First, his collection of guitars are carefully stowed in the touring rig. His personal gear bag includes a smorgasbord of consumer electronics products he can't live without.
In that gear bag are cameras, lenses, a gimble, drones, an SD card reader, two smart phones, ear buds, and a laptop, each including onboard storage that humbly helps them work their magic. Reid also brings external storage (HDDs and SSDs) that enable him to capture, store, archive, and edit footage while on tour.
Reid is a creator – of music, photography, video, and film. He recently returned from the band's "Summer Gods: 25 Years in the Blind" tour with 16TB of live action concert footage, behind-the-scenes interviews, and content normally privy to only those on tour. An experienced videographer, editor, and animator, Reid has a unique way of sharing his experience on the road with viewers, including fans and followers.
Creative roots
Reid studied film and animation in college. His father was a photographer. "I grew up with the camera first in my face, and then in my hand," he said.
Born in Dublin, Ireland, Reid and his family moved to County Kildare when he was 8 years old. He played guitars in bands throughout his school years, but always had a camera with him. One friend and bandmate discouraged him from shooting, insisting, "Wait 'til we're big!" but years later said he's happy they captured those early days on film.
Reid joined Third Eye Blind in 2010 and brought his camera gear with him.
"I was a bit tepid at the beginning," he said as Reid started combining live action with animation and special effects to create music videos. "I wasn't sure if the band would be cool with it"
"Stephan [Jenkins, the lead singer and founder of Third Eye Blind] saw the potential of having someone in-house who gets the vibe of the band and keeps it on brand," said Reid. Now that he's created several music videos and a documentary for the band, he can attest to Jenkins' hunch.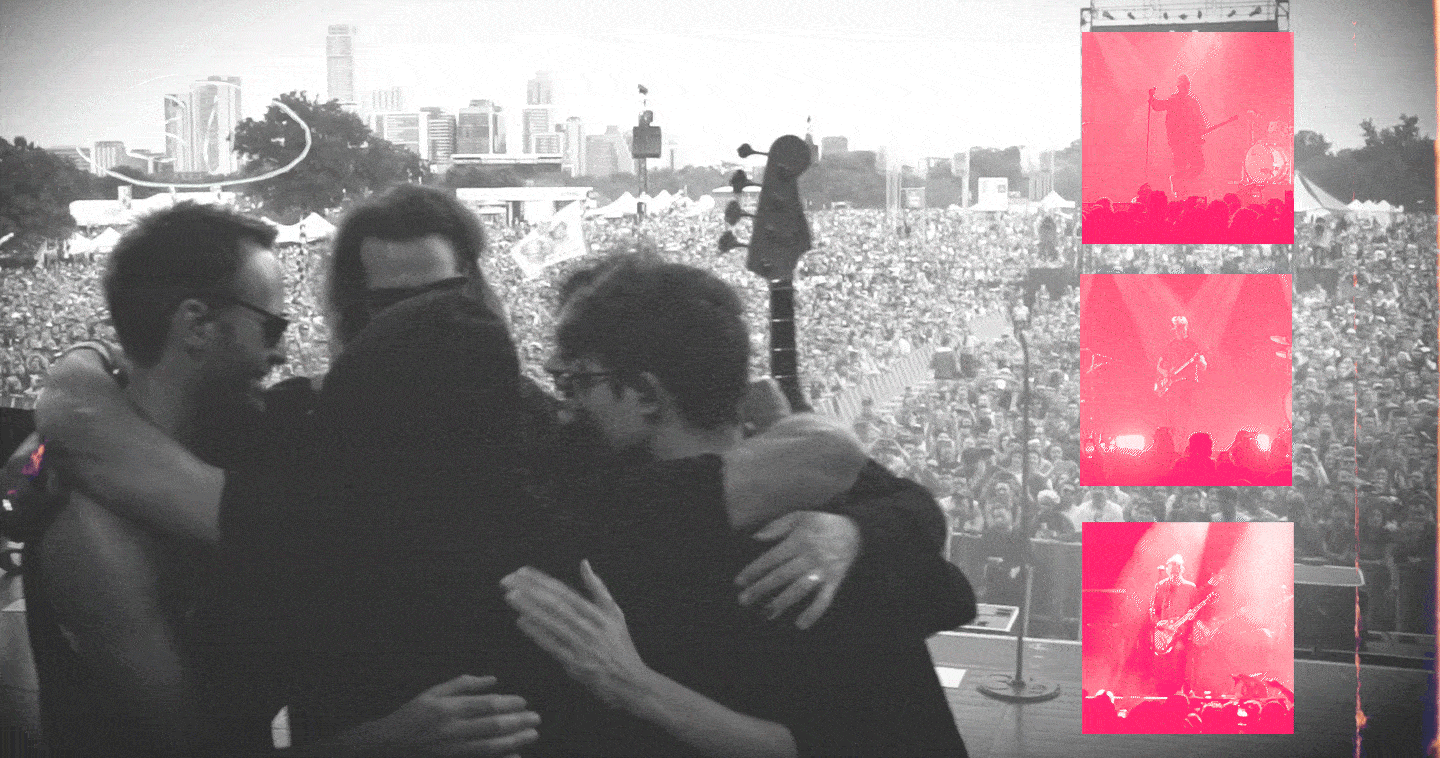 Reid enlists the help of Western Digital's SanDisk® high-capacity SD and microSDTM cards to "fire and forget," which means setting up the cameras, securing different angles, then hitting the record button.
"Because I'm in the band, people forget the camera is even there," said Reid. "We're able to catch things like these cool meetings behind-the-scenes. That's a crucial element. It's footage no one else can get."
100 days of lockdown
When the band's 2020 tour was cancelled abruptly due to the pandemic, Reid and Jenkins focused on creating alternate content to engage with fans.
"Had we done just one show we could have filmed it and had that content to share," said Reid.
Reid spent the early days of the pandemic cycling over to Jenkins's house to shoot social media content. Wearing masks and social distancing, the resulting "100 Blind Days of Lockdown" YouTube series included live footage from the lead singer's kitchen, among other quarantine locations. They also created Instagram Lives, a podcast, and radio performances to engage (virtually) with audiences.
The band recorded a new album during quarantine with a limited number of people in the studio due to the pandemic. When they were finally able to perform live again, their first gig was a drive-in concert at the Ventura County Fairgrounds. The band performed while the audience sat in their cars and listened on their car radios.
That's quite a contrast to the recent "Summer Gods" tour that took the band to 32 cities in less than two months.
Back to a semi-charmed kind of life
During the tour, Reid consistently posted content to social media accounts, including drone footage from high atop some of the outdoor stages.
Before each show, Reid walked the stage with his technician following sound check. He'd help position the cameras then another technician would trigger them to begin rolling, capturing the same shots every night. After the show, he'd gather hard drives from the front of the house, sync multiple cameras, and review the footage.
Tour footage is then sorted into individual day folders, which Reid reviews on the fly and flags any footage he'd like to push out while on tour (i.e. a special guest performance or a song they rarely perform). The rest of the footage is labeled and stored on high capacity drives until Reid returns home.
"I keep everything so we can always put together tour recaps or short-form concert film footage, primarily for social media," said Reid.
Since wrapping up the "Summer of Gods" tour, Reid has returned to his home in Los Angeles where he is building a soundproof studio in his backyard for audio and video editing.
"It's soundproofed so we can jam at 4 a.m. and not bother the neighbors," said Reid, who plans to do voice-overs, vocals, videos, podcasts, and of course jam sessions.
"We're all so paranoid about losing footage with everything digital now," said Reid, who keeps his footage stored on its original drive, backs up his footage to a RAID system, and uses cloud services for an added layer of protection.
He's used Western Digital storage products for years. Every shot is on SanDisk Extreme PRO memory cards and archived on the brand's G-DRIVETM rugged portable mobile SSDs.
"New tech arrives and gets smaller and faster," said Reid. "There's a 1 terabyte microSD card the size of your thumbnail in the drone camera."
Recently, he's added WD RedTM Plus 14TB1 NAS hard drives to the mix as well as a QNAP 4-bay Thunderbolt 3 NAS unit to assemble footage from the tour. The new drives will enable him to store and edit even larger amounts of video than in the past.
"Being able to set up cameras, get the angle, and hit record, then keep 4K footage for 60 days gives peace of mind," said Reid. "It's a game changer to have large capacities to do this."
His gaze settles on the simple laptop he uses for heavy-lifting tasks like editing, special effects, and mixing. Until the next tour, Reid will be setting up his new studio as his retreat and creative space. A creative with terabytes of content.
1. 1MB = 1 million bytes, 1GB = 1 billion bytes and 1TB = 1 trillion bytes. Actual user capacity may be less depending on operating environment.