As worldwide data growth continues into the zettabyte age at unprecedented rates, it also enables the creation of innovative, performance-sensitive applications that need quick and reliable access to the data using high-performing devices. Increased responsiveness and higher performance in applications translates directly to increased revenues and lower TCOs for businesses, especially small and medium-sized enterprises (SMEs) that are looking to maximize their return on investments quickly. Moving forward, storage performance will prove to be a differentiator, providing a distinct competitive advantage to the leading adopters.
Thus, SMEs need to redesign their data infrastructure to not only cater to increasing capacity for capturing and storing more data, but also to higher performance for quickly accessing and transforming it. That's why we're building off our WD Gold HDDs – enterprise drives that store up to 14 TB of data. I'm excited to announce the WD Gold® Enterprise Class NVMe SSD™. With WD Gold SSD, SMEs get access to an NVMe SSD that enables them to expand their storage portfolio and take on more intensive and performance-sensitive workloads.
WD Gold NVMe SSDs Evolve Enterprise Data Management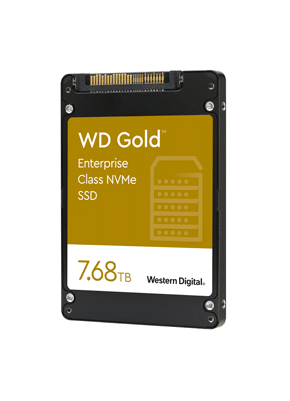 The WD Gold NVMe SSD is the performance-driver in a tiered solution with both SSDs and HDDs. Read throughput reaches up to 3,100 MiB/s and write throughput has a maximum rate of 1,800 MiB/s – up to 5X faster than SATA SSDs.1 Those speeds are made better with NVMe and lead to improved system responsiveness and productivity.
Whether using storage arrays or server-based distributed storage systems, SMEs are looking for faster storage and access to data without increasing cost. WD Gold NVMe SSDs fill this need by blending capacity and performance. These drives can store up to 7.68 TB2 and come in an industry-standard U.2/7mm form factor and PCIe Gen 3.1 x4 interface. They can serve as a drop-in replacement to your existing data center drives.
Protection Against Power Loss
Small and medium-sized enterprises are tasked with storing and securing their data around the clock. Downtime in data centers leads to loss in revenues and potential loss of trust with customers. In the event of a power outage, WD Gold NVMe SSDs protect against power loss. That way, you can work with confidence knowing that your data is being safely stored – even if your data center goes temporarily offline.
Enterprise-level data storage needs enterprise-level reliability. WD Gold NVMe SSDs are built for typical SME applications in demanding storage environments. They deliver highly reliable performance, with a maximum of 0.8 DWPD. Each drive is rated up to 2M hours MTBF with a 5-year limited warranty. That way, you can store and access your data consistently with peace of mind.
Delete Sensitive Enterprise Data
Businesses and consumers alike are more mindful when it comes to data privacy. People want to know that their data is only being shared according to their terms. WD Gold NVMe SSDs use secure erase technology to wipe sensitive data quickly and effectively.
Where to Find Your Next NVMe SSD
The WD Gold NVMe SSD will be available in early Q2 2020 for order on the official Western Digital store, our distribution partners, and e-tailers in capacities of 960 GB, 1.92 TB, 3.84 TB, and 7.68 TB.
---
[1] Based on internal testing; performance may vary depending upon host device, usage conditions, drive capacity, and other factors.
[2] One gigabyte (GB) is equal to 1,000MB (one billion bytes), one terabyte (TB) is equal to 1,000GB (one trillion bytes), and one petabyte (PB) is equal to 1,000 TB. Actual user capacity may be less due to operating environment.
Learn More