In recent months, VMware, SanDisk®, Dell, Avago and Brocade have worked together on VMware's new, hypervisor-converged Software-Defined Storage platform (SDS), Virtual SAN, and validated a new all-flash VDI reference architecture (RA). The recent announcement of the solution brief can be found here and here.
As the RA becomes public, I would like to take the opportunity to share some key findings. This solution guide is prepared using certified components so that partners and customers can directly take this as deployment guide and eventually treat it as Ready Node. For those interested in the details of test bed or BOM, these will soon to be in public domain. You can learn more about our partnership on the VMware Developer Blog.
Reference Architecture Summary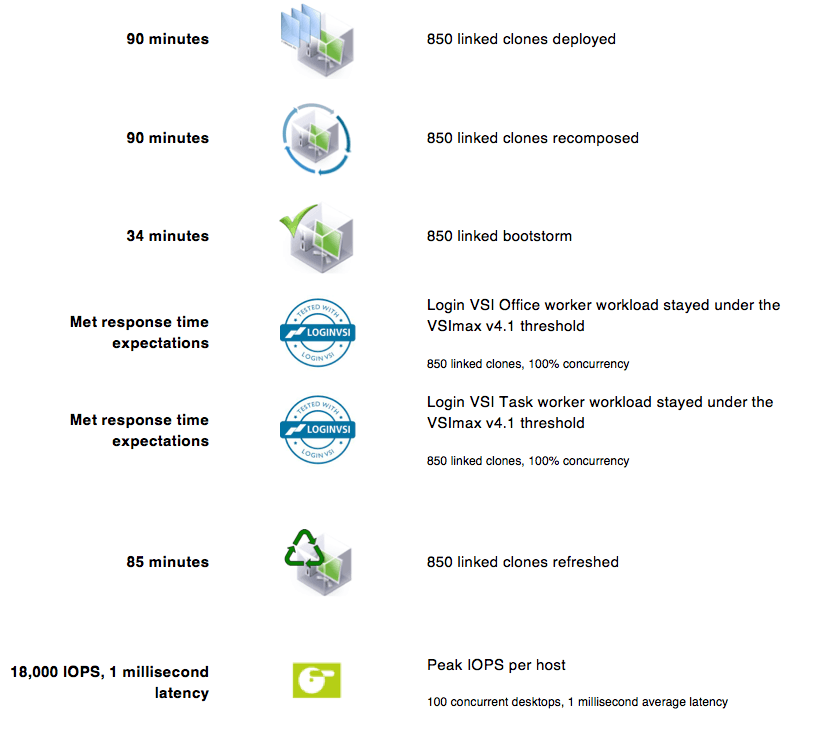 So what can we learn from these results?
Here is how I summarize my key takeaways:
New densities enable higher VDI adoption: This 4-node All-Flash Virtual SAN is running more than 200 VDI desktops per node. This is extremely large density that significantly brings down the cost per user and can even scale beyond what VMware All-Flash Virtual SAN will support in 6.0.
VDI administration made easy = next-level productivity: VDI administrative operations such as pool creation recompose and boot storm are time consuming. The speed of these operations in this RA is blazingly fast: 850 VDI desktops recomposed/patched in just one and an half hours? This is incredibly fast!!! Honestly, I haven't heard of another platform that performs so fast – have you? Drop a comment to this blog if you are aware of such solutions. With these improvements in operational efficiency, organizations can really increase or define user productivity to next level.
Scaling successfully is scaling smartly: "Login VSImax*" score is the indication of the acceptable application response time at a particular VDI user density, and the lower score, the better. This RA never reached the maximum score, meaning that response time of the application is well within acceptable limit even with 850 desktops running in the environment! You might ask then why we did not scale further, beyond 850 desktops? I suggest downloading the RA guide where we discuss this in detail.
*VSImax is the maximum "Virtual Session Index (VSI). It gives a value when the target environment reaches saturation point.
Conclusion
Hypervisor-Converged infrastructure is a new concept driving the next generation of software-defined storage (SDS). It brings in compute, storage and network together, instead of treating them as separate silos as has been customary in traditional IT deployment.
Hypervisor-converged infrastructure brings in new opportunities in the area of VDI, particularly due to reduced cost and simplicity of deployment. This SDS platform raises the bar for end user expectation by enabling better SLAs and provides new, cost-effective infrastructure that can deliver successful VDI deployment (particularly as costs have been an inhibiting factor for success).
I would like to thank every one of our partners who helped in this RA and making it a success, particularly Abid Saeed and Asheet Hakoo of VMware engineering team.
Stay tuned for the detailed RA and please share your thoughts in the comments below.