In India, data has the potential to solve a variety of national challenges in areas such as cleantech, education, healthcare, transportation and renewable energy. Imagine a future of cleaner air, more accessible schools, and safer roads—all made possible by breakthrough ideas from the next generation of entrepreneurs in India's thriving startup ecosystem.
How well is the startup ecosystem thriving in India?
Let's look at a few numbers. Globally, India is the third-largest environment for early-stage companies. Nearly 50,000 startups call the country home1, with 26 of those being "unicorns" – a prestigious title for a privately-held company that has reached over $1 billion in valuation2. That means after the United States and China, India has the most startups in the world.
From this data, it's clear that India has created an environment for startups to be created, supported, and scaled to achieve impressive financial milestones.
My team at Western Digital firmly believes that strengthening relationships with the Indian startup ecosystem is vital to creating environments for data to thrive. We were looking for ways to support the immense amount of talent and ideas that emanate from the country.
So, in December 2018, we threw our hat into the ring.
Supporting Entrepreneurs with Our Data Innovation Bazaar
In partnership with Startup India and Invest India – two initiatives based out of the Government of India – Western Digital launched the Data Innovation Bazaar. It was a collaborative platform for youth and young entrepreneurs in India to solve five national challenges using data and innovation. These included using data to:
Create initiatives that seek to provide affordable, sustainable enrollment and access to educational programs at scale.
Develop new models for improving air quality in urban areas.
Establish affordable, effective systems of access to scalable, quality healthcare and healthcare records.
Create solutions that seek to provide safe and smart mobility in the transportation sector.
Develop effective and affordable uses of clean and renewable energy in everyday use and applications.
The reception to our Data Innovation Bazaar was incredible, with over 500 applications from startups! From this impressive pool of candidates, we chose 40 to showcase their ideas in front of key government officials, leading academia, and Western Digital leaders in a bazaar-style format in Delhi. Winners of this event were awarded prizes and mentorship, which included access to our Data Innovation Bootcamp.
Ramping Up Great Ideas at Our Data Innovation Bootcamp
As our Data Innovation Bazaar came to a close, we selected 10 participating teams to take part in a three-day boot camp at our Bengaluru campus. Our goal was to open doors, helping these promising startups discover first-hand how to develop and launch their innovative ideas. To do so, we invited successful startup founders, university professors, and experts from within Western Digital to present and lead discussions with our attendees.
Here's a quick look at a few of the teams that were chosen:
A2P – Agri to Power has found economic alternatives to the current practice of burning paddy straws including converting the straw into useful products like energy and soil conditioners.
BlinkEyeLabs Electronics Pvt Ltd is building a vision-enabled IoT device, which provides a safer and more convenient driving experience using deep learning at the edge. The company further leverages data to provide smart feedback.
Castle Advanced Technologies and Systems has invented a simple, low cost, safe, and easy to use diagnostic and treatment device that greatly improves the identification of respiratory metrics in children and will help reduce the mortality rate in children in developing nations.
Cogniable Tech uses advanced machine learning on data captured during a child's assessment and treatment process. The outcome is a screening result and a customized behavioral treatment plan that records provisions on a web and mobile interface.
Gigacure Healthcare Analytics is building the next generation of medical-grade smart wearables in combination with real-time cloud analytics to detect and prevent any life-threatening complications that can arise during pregnancy.
Monosha Biotech is integrating traditional tribal knowledge with modern science and technology, by harnessing the medicinal benefits of "naturally occurring" and "bio-active" snake venom for saving lives.
Phase Labs uses an advanced microscopy technology to capture 3D imaging and retrieve 3D parametric data of morphological changes in biological cells. Early applications include imaging of Pap-smear samples for detecting pre-cancerous cervical cells and population study of red blood cells for personalized wellness testing.
YuTu Electronics has smart logistics security solutions for last-mile security to remove pilferage and theft from logistics transportation. The solution helps companies to improve performance and reduce the cost of operations.
While planning for our Data Innovation Bootcamp, we gained an understanding of the key issues and biggest roadblocks faced by our planned attendees. Then, we sat down with a variety of subject matter experts to build a robust boot camp agenda that emphasized business impact.
To facilitate these agenda topics, we identified a list of presenters and speakers who shared their expertise. Here's a recap of the events that happened each day at the boot camp.
DAY 1 – Kick Off + Technical Sessions
As Day 1 began, I welcomed the startups and celebrated the role and fruition of dreams in the entrepreneurial journey. Following my welcome was a keynote from Guruswamy Ganesh, Senior Vice President, Flash Products Group at Western Digital. In his speech, he highlighted how young entrepreneurs could successfully embrace winning and leadership. Ganesh also outlined the building blocks of vision, strategy, teams, innovation and execution in developing the x-factor leadership that could potentially define the success of a startup.
With our attendees inspired, we spent the bulk of the late morning and afternoon on technical sessions. Paul Kagoo, our Vice President of Corporate Strategy, was the lead facilitator for these mini-workshops. Topics covered included:
Business Model Design
Scaling Up Operations
Building a Strong Leadership Team
Understanding Startup Valuation
Developing an Investor Pitch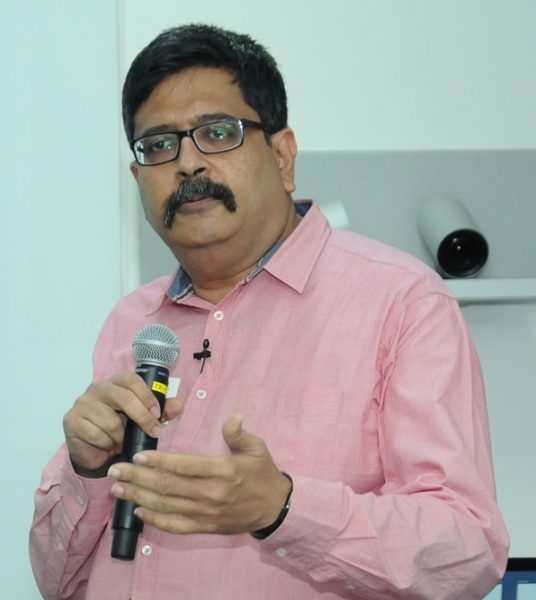 Throughout the day, we also had speaking engagements from our invited speakers: Ganesh N. Prabhu, Professor of Strategy, Indian Institute of Management, Bangalore (see image on right) and Prashant Pansare, Co-founder, Eagle10 Ventures. The end of the day saw an opportunity for our chosen startups to network with Western Digital's India leadership team over dinner.
DAY 2 – Drill-Down Strategy
The second day continued with Paul sharing how Western Digital is positioned to help startups in India thrive now and in the years to come. We invited more external speakers to share their insights, including Salil Seth, our guest from Startup India – an initiative based out of the Government of India.
To finish the day off on a fun and interactive note, the startups took part in an interactive "Design Thinking" workshop. The goal was to tap and build their creative and problem-solving skills. Needless to say, the competitive spirit came through!
DAY 3 – Pitching to VCs
While the first two days focused on education, our final day was for building relationships with venture capitalists (VCs). Learning how to pitch is a critical skill for startup founders. On Day 1, our selected teams had learned about startup valuations and developing a pitch for potential investors. When Day 3 arrived, it was time to put this knowledge into action. Teams spent the last day of our Data Innovation Bootcamp pitching to VCs, followed by a networking lunch.
We were excited by the opportunity to connect our bootcamp participants with a distinguished roster of VCs, including:
Prashant Pansare – Co-founder, Eagle10 Ventures
Praveen Kumar Kalbhavi – Co-founder, MD and CEO, NOViGO Solutions
Sheeba D'Mello – Start-up Investments and Portfolio Management, Prayog Advisors
Vinod Shankar – Associate Vice President, Kstart Capital (a Kalaari Capital initiative)
Venugopal Sathyanarayan – Partner, Cheung Kong China International Capital
The Future of Data Innovation in India
Our partnership with the Government of India has been a huge success. We realized that, by using data to connect with their citizens, governments could drive actionable insights for social change. Seeing these programs come from mere ideas to well-executed events has been extremely exciting. I've been humbled by the creativity and innovation of India's budding entrepreneurs. At the same time, I've been enlightened by the savvy business advice shared by leading policymakers, industry veterans, investors and educators.
I would like to take a moment to thank my colleagues at Western Digital – including our corporate strategy team – whose ongoing hard work made this achievement possible. In addition, a big thanks to the India team including Lokesh Ayireddy, Director of Strategy and Government Relations, and Akshara Bassi, Program Manager of Country Operations, for managing and executing the event behind the scenes.
Great work, team!
In the coming months, I look forward to sharing more news following our Data Innovation Bootcamp. These will include one-on-one profiles of startups from the bootcamp, including their biggest takeaways and future business plans. Stay tuned!
---
Sources:
Number of Startups in India grew 7X to 50K in a decade. https://entrackr.com/2019/02/startups-india-grew-50k-2019/
[Report] The State of The Indian Startup Ecosystem 2018 Report. https://inc42.com/startup-reports/the-state-of-the-indian-startup-ecosystem-2018-report/