I have often been asked by partners and customers about how their database workloads or business critical applications would compare on all-flash versus hybrid Virtual SAN. The answer is always "it depends". No two workloads are alike, and no two Virtual SANs are alike. But if I try to summarize what the most critical factors are, I would point to the size of the workload, the Virtual SAN cache size and computing resources available. In my opinion, these three factors will generate the biggest differences, although there are many more factors to consider.
[Tweet "The surprising truth about all-flash vs. hybrid #VMware Virtual SAN #VSAN "]
To better define these differences, and help customers make better and informed decisions, we have worked jointly with ESG to create a solution paper comparing an all-flash and a hybrid Virtual SAN environment. We brought in ESG to provide their technology industry experience and business perspective to this study.
As you know, there are endless workload and hardware configuration variations possible to run in Virtual SAN and performance may vary. We chose this sample as we believe it would be a representative example of a business-critical workload running on Virtual SAN. I hope it provides informed guidelines in terms of "what to expect".
We also made sure that we did not add any performance tweaking in the environment to achieve higher results – the performance in the ESG paper was intended to reflect what a typical user could expect from a standard Virtual SAN deployment.
HammerDB Performance Results
In our Virtual SAN configurations, we ran transaction workloads in eight virtual machines using a 4-node hybrid and an all-flash Virtual SAN. The two environments were identical except for the underlying Virtual SAN configuration, and no additional tweaking has been done to increase the performance in either environment. We kept the working dataset reasonable so that there is no bias towards one over other. As an example, if the working set is very large and the Virtual SAN cache size is small, the all-flash configuration will outshine hybrid with very big differences. Conversely, if the working set is small enough to fit everything within the Virtual SAN cache, there will be minimal performance differences expected.
Even with this reasonable working set, we can see that all-flash achieved 49% better performance results compared to the hybrid configuration for the New Orders per Minute (NOPM) in the transaction workload.
Price/Performance Results
It is always challenging to calculate the exact price of a deployment, as it varies. In our case, we took 'street price,' as listed online, and calculated the total price of each Virtual SAN solution. This price is inclusive of VMware and other licensing costs. As you can see, the all-flash solution's total price is higher than the hybrid and that is assumed in the analysis. Yet when we consider the real matrix of price/performance, the all-flash Virtual SAN delivers a far more compelling solution than the hybrid option. Bear in mind, we did not take into consideration the reduction in power, cooling, etc. over the VSAN usable life. These operational cost savings could be substantial over time.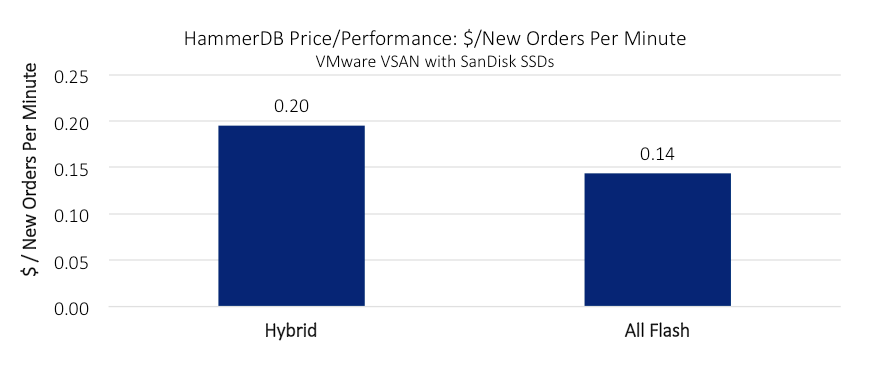 Duncan Epping, Chief Technologist working at VMware in the Office of the CTO, recently wrote about his comparison of all-flash vs. hybrid VSAN configurations on his blog. His configuration calculations show that all-flash is often the lower cost option. Our real-world test scenario proves this assertion. It was great reading his perspective on why IT managers need to move to all-flash today.
Conclusion
In my opinion, both solutions are great and it is flash storage that makes them shine. There could be occasions where SLAs are not critical or you have low performance requirements where you might think of a hybrid solution. But with a very minimal cost increment you can find a much better solution from a price/performance perspective, saving on operational costs through the reduction of hardware while better meeting business requirements.
I want to end with some of ESG's validation highlights from the report:
Validated hardware for optimal performance – SanDisk® demonstrated the high levels of predictable performance and sustainability of its Optimus® SSDs for VMware Virtual SAN hyper-converged solutions.
A 49% improvement over the hybrid solution – The all-flash configuration of the four-node VMware Virtual SAN cluster delivered 2.5 million new orders per minute versus 1.7 million for the hybrid VSAN.
26% price/performance advantage for all-flash – While the all-flash solution was priced 10% more than the hybrid solution, the price/performance advantages of SSDs translated into 26% price/performance advantage for the all-flash solution.
Reduce OpEx and licensing costs through consolidation – With the performance benefits demonstrated by the all-flash solution, less server hardware is needed to meet the business requirements, leading to additional savings on power, cooling, and application software licensing.
To learn more you can read the full lab report ESG Lab Validation: Optimize VMware Virtual SAN 6 with SanDisk SSDs on the ESG website.
Join SanDisk, VMware vExpert and ESG for a free webinar
How to Better Run Business Applications on VMware Virtual SAN 6: ESG Lab Results
May 11th @ 10:00 am PT

Presented by Patric Chang, SanDisk Sr. Director Marketing Manager; Jack Poller, ESG Analyst; Jase McCarty, VMware vExpert
Learn how flash storage and VMware Virtual SAN 6 can help drive IT infrastructure consolidation for better business outcomes.
Mission-critical databases and business applications serve as the lifeline of many organizations. Therefore, performance is tantamount. In this webinar we'll review a recent ESG study that confirms running VMware Virtual SAN cluster with SanDisk SSDs easily accommodates the performance and cost requirements of an enterprise-class virtualized OLTP database environment and delivers a better price/performance at the same time.You will learn:
Key features, highlights and benefits of VMware Virtual SAN 6
Hybrid and All-Flash Virtual SAN Configurations with SanDisk SSDs
Performance results (NOPM) of Hybrid and All-Flash VSAN
Price/performance and comparisons between Hybrid and All-Flash Virtual SAN configurations
As always, I can be reached at biswapati.bhattacharjee@sandiskoneblog.wpengine.com or on LinkedIn