Can the combination of NVMe SSDs and VMware vSAN provide the performance and cost efficiency IT needs to deliver a competitive advantage? With VMworld around the corner, we invited the Enterprise Strategy Group (ESG) to test our latest vSAN configuration- here is what they found out.
Organizations are embracing digital transformation, but the journey has not always been easy. Infrastructures are growing in size and becoming more complex due to the massive increase in data volumes, a growing diversity of data sources and endpoint devices, and multitude of new applications. To make things worse, IT budgets are not keeping pace, so IT teams are forced to do more with less.
In a recent survey, IT professionals named cost, performance and complexity as their most pressing challenges.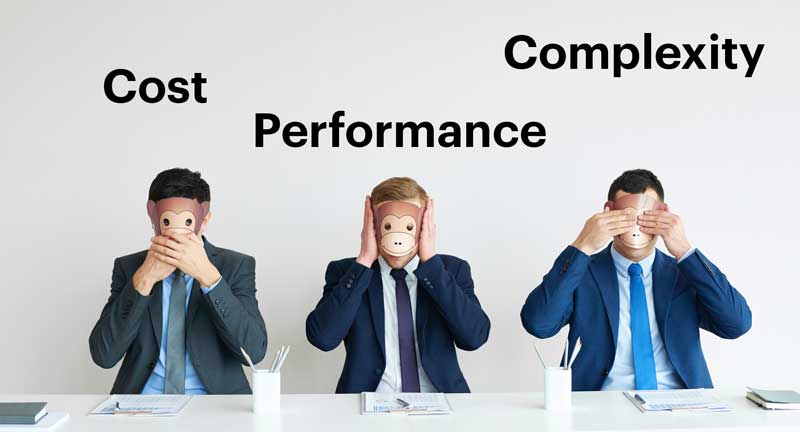 vSAN to the Rescue
With IT focused on delivering a competitive advantage through digital transformation, legacy infrastructure has become time-consuming, expensive and complex. New architectures, based on software-defined storage, help businesses evolve while lowering IT costs and providing an agile solution that is future ready.
A commonly deployed hyperconverged infrastructure (HCI) solution is VMware vSAN. Built on a software-centric architecture that tightly integrates compute, storage and virtualization resources, it can be deployed on the customers' choice of industry-standard servers and storage devices. As such, it is very flexible and can be configured to meet optimized workload demands at lower costs.
The Rise of NVMe
Businesses are rethinking how their data is captured, preserved, accessed, and transformed, and are seeking to optimize their infrastructure stack. One big change that is coming to IT is the increasing adoption of NVMe™ for flash devices.
Unlike SAS and SATA, NVMe (Non-Volatile Memory Express) is a protocol created for accessing high-speed flash storage. As such, it delivers superior performance and lower latency.
vSAN Using NVMe SSDs
What happens when you bring these two trends together? What are the benefits that organizations can see and how much will it cost them?
We invited a third party to test the performance and value of an NVMe-based hyper converged vSAN solution. ESG Lab performed hands-on evaluation and testing of a Western Digital® Ultrastar® DC SN620 NVMe SSD-based VMware vSAN at our facilities. The testing environment was designed to demonstrate cost-effective performance using industry-standard tools and methodologies. Results were analyzed and compared between SAS and NVMe vSAN configurations.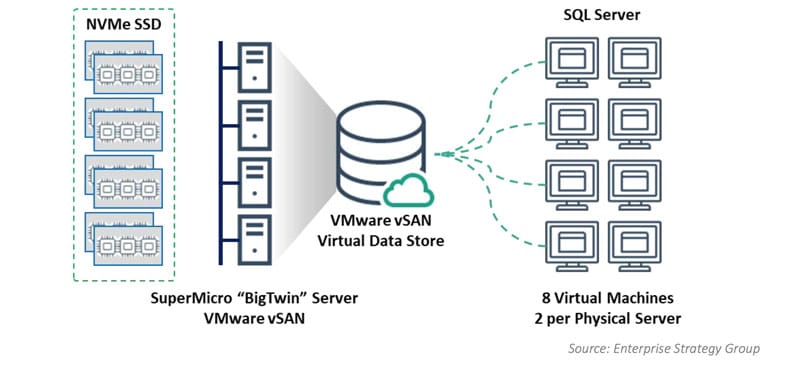 The tests simulated a typical OLTP workload using HammerDB, an industry-standard, open source database load testing and benchmarking tool. The workload itself emulated the database activity of users in a typical online brokerage firm as they generated trades, performed account inquiries, and executed market research.
Western Digital Ultrastar SN620 NVMe PCIe SSDs
ESG Lab tested the VMware vSAN solutions with Western Digital SSDs using two different interfaces: SAS and NVMe. The Ultrastar SN620 NVMe SSD family features a native PCIe Gen 3, x4 interface and NVMe 1.2 compliance with VMware in-box driver support and a comprehensive set of features making them ideal to integrate with existing infrastructures.
The Ultrastar SN620 NVMe SSDs typically draw less than half the power required for performance NVMe SSDs, and provide up to 250,000 IOPS random read and up to 47,000 IOPS random write performance, with up to 1,700MB/s read and up to 1,200MB/s write speeds.
Supermicro® BigTwin
This configuration used the Supermicro BigTwin server, a multi-node system supporting high-performance processors, memory, storage, and I/O in a 2U form factor. As an integrated solution, the BigTwin supports dual-processor compute nodes, hot-swap NVMe drives, and configurable I/O.
vSAN Using NVMe – How Fast is it and How Much Does it Cost?
The full testing results are available in an ESG report: "Optimize VMware vSAN with Western Digital NVMe SSDs and Supermicro Servers" which you can download at the end of this blog. But let me share with you the highlights.
The NVMe configuration delivered almost 3.4 million new orders per minute, 25% more performance than the SAS configuration. Using Western Digital NVMe SSDs enabled the VMware vSAN cluster to maximize performance.
It's not only that the NVMe solution outperformed the SAS solution by 25% but it managed to support around 50% more clients simultaneously with the same amount of SSD drives!
This is where the story gets interesting, as the most impactful results come when you evaluate the performance / cost ratio.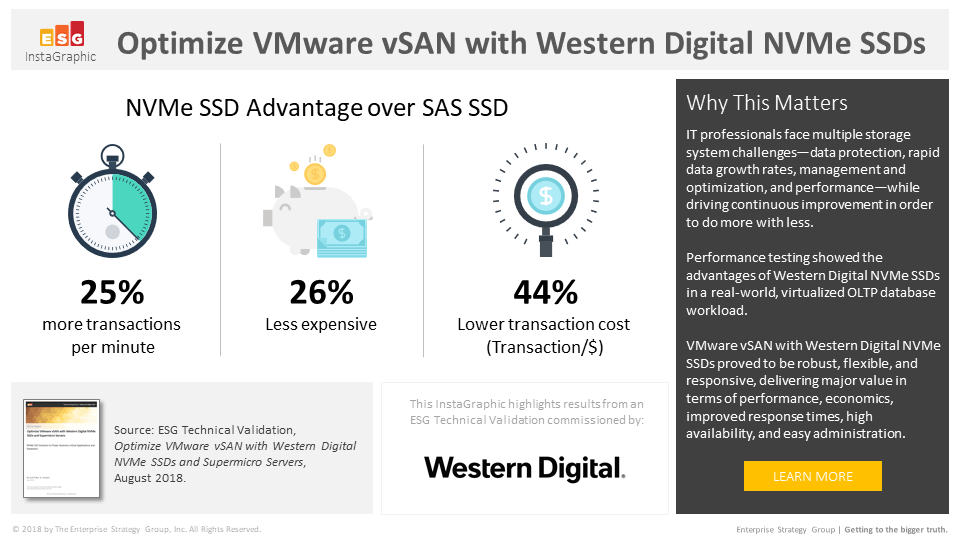 Using street prices for the cost of the Supermicro BigTwin, software licenses, and the SSDs, ESG Lab computed the cost of each solution. The NVMe solution is a much more cost efficient configuration, 44% better than the SAS solution:
25% higher performance
50% more clients simultaneously
44% better cost/performance ratio
To see the full report and testing results, the ESG white paper is available for download here.
Learn More at VMworld
With businesses depending on new solutions to solve bottlenecks and unleash the power and value of data, NVMe is a key enabler of next generation infrastructure that will help businesses scale.
Join us at VMworld in booth #2001 to learn about Western Digital NVMe devices, vSAN ReadyNodes™, as well as all-flash systems (hybrid and all-NVMe) and archiving solutions. We will be handing out a free copy of the NVMe Storage for Dummies book, so make sure to stop by to learn more!
[1] ESG Master Survey Results, 2018 IT Spending Intentions Survey, December 2017.