This year, system, storage, and network professionals will hyperconverge in Las Vegas for the VMworld® be_TOMORROW show. In the same city, just eight months ago, Gartner predicted that the Hyperconverged Integrated Systems market will grow rapidly at a combined annual growth rate of 68%.[1] There is one sure thing at this year's VMworld – there will be a lot of buzz on hyperconvergence as the data center and cloud infrastructure of tomorrow.
But what do you need to know in order to take your software-defined data center where it needs to be_tomorrow? Let's look at three key attributes pertinent to storage and network virtualization.
[Tweet "3 ways to transform your data center with #HCIS and #flash — #VSAN #VMworld "]
Be_REAL – The Storage Challenge
The storage challenge is real and it's already here with explosive data growth and infrastructure complexity. New storage resources being deployed today need to perform, be cost-effective, and elastic to give IT professionals a chance to seamlessly upgrade to the software-defined data center (SDDC) of tomorrow. But an effective software-defined storage (SDS) solution will depend on the workloads being run by the customer and will require particular performance, cost-effectiveness, and capacity. Each case is different, and no one solution fits all.
Today, Western Digital® (which includes the SanDisk® and HGST brands) provides SDS companies with the industry's broadest family of flash and hard drives with a wide range of performance, cost, and capacity to match the workloads of the customer. In fact, we give customers a choice of over 200 certified products to deploy vSphere 6.0 and Virtual SAN 6.X (see figure 1 for examples), including SanDisk/Western Digital's Fusion ioMemory PCIe application accelerators, which were used to obtain ten out of the top 10 VMmark 2.X results (the premier benchmark for multi-server virtualization).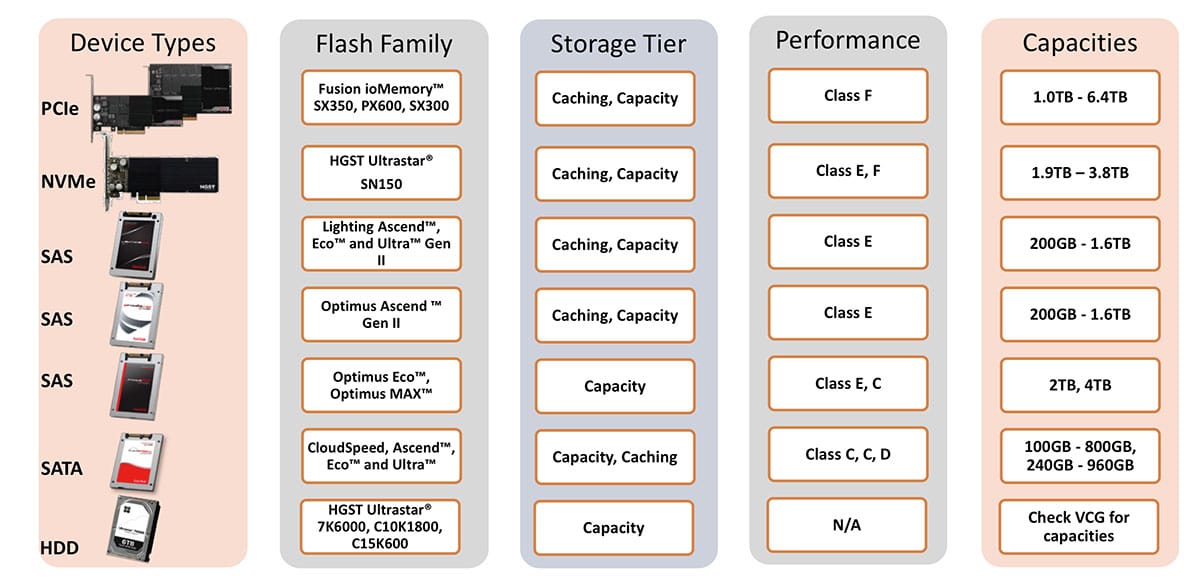 be_INTEGRATED
With over 200 storage products certified for VMware vSphere® and Virtual SAN™, the diligent architect can pick exactly the right storage products for the most effective Software-Defined Data Center (SDDC) solution to build for their customers. Having a wide choice of certified products gives you a great start. The next step is to see how these storage products are integrated and tested with the servers, controllers, and networking to provide customers with the optimal solutions so that they can deploy quickly and easily.
Western Digital has been working closely with our server OEMs to have our products integrated into Software-Defined Data Center (SDDC) solutions from VMware, Nexenta, Tegile, Stratoscale, and others -including emerging companies like Elastifile.
For VMware Virtual SAN, Western Digital certified products are in tested VSAN Ready Nodes shipped by leading OEM companies.
Real Applications, Real Use Cases
A key approach that Western Digital takes is working with our OEMs in putting together Hyperconvered Integrated Systems (HCIS) though our Data Propulsion Lab. For instance, in working with OEMs and VMware on Virtual SAN Reference Architectures and VSAN Ready Nodes, we tested using synthetic benchmarks to illustrate IOPs, and characterize bandwidth and latency to establish a baseline. Next we tested the most commonly deployed enterprise applications and databases used in data centers and clouds today including SQL Server®, Oracle 12c database, Virtual Desktops, and business analytic software.
We are thrilled to have key representatives from these partners join us in the SanDisk booth (#1955) to talk about some of these HCIS solutions. For Virtual SAN, we will be covering the following topics:
"All-Flash and Hybrid Virtual SAN"
"Running Business Critical Applications All-Flash VSAN Ready Nodes" (see figure 2)
"Running VDI Desktops and Business Applications at the Speed of Flash"
So join us in the SanDisk booth to learn how these integrated HCIS can be best utilized in hyperconverged solutions in your current and future SDDC and how to choose the right configuration for your needs.

be_STRETCHY
The third attribute to build the SDDC of tomorrow is the need to be_STRETCHY. Stretchy covers the ability to be elastic, agile, and resilient.
Elasticity is the ability to increase or decrease an IT resource like storage quickly and easily on demand without huge capital and operational costs. Software-Defined Storage such as VMware Virtual SAN can be scaled up by adding more flash drives or hard disks or scaled out by adding more server nodes.
For example, one of the latest Virtual SAN solutions with one of our OEM partners was tested to deliver 2.4 million New Orders per Minute (NOPMs) using Microsoft® SQL Server 2016 on a 4-node Virtual SAN cluster with 6.4TB of flash capacity. Each node can be scaled up to support 3 caching flash drives and 21 1.6TB capacity drives to provide 33.6TB of flash capacity per node or 2.15PB for a fully configured Virtual SAN cluster. The same cluster can be scaled out to the fully configured Virtual SAN cluster to deliver 38M NOPMs.
Agility Requires Resilience
Another aspect of being stretchy is the ability to stretch SDS solutions across locations to provide agility and resilience. Western Digital is working with Brocade, VMware, and Supermicro on a Virtual SAN cluster to run business analytics and OLTP workloads in a lab in San Jose, CA using VMware NSX® and Brocade VCS® fabric (see figure 3). You can also read Brocade's blog here.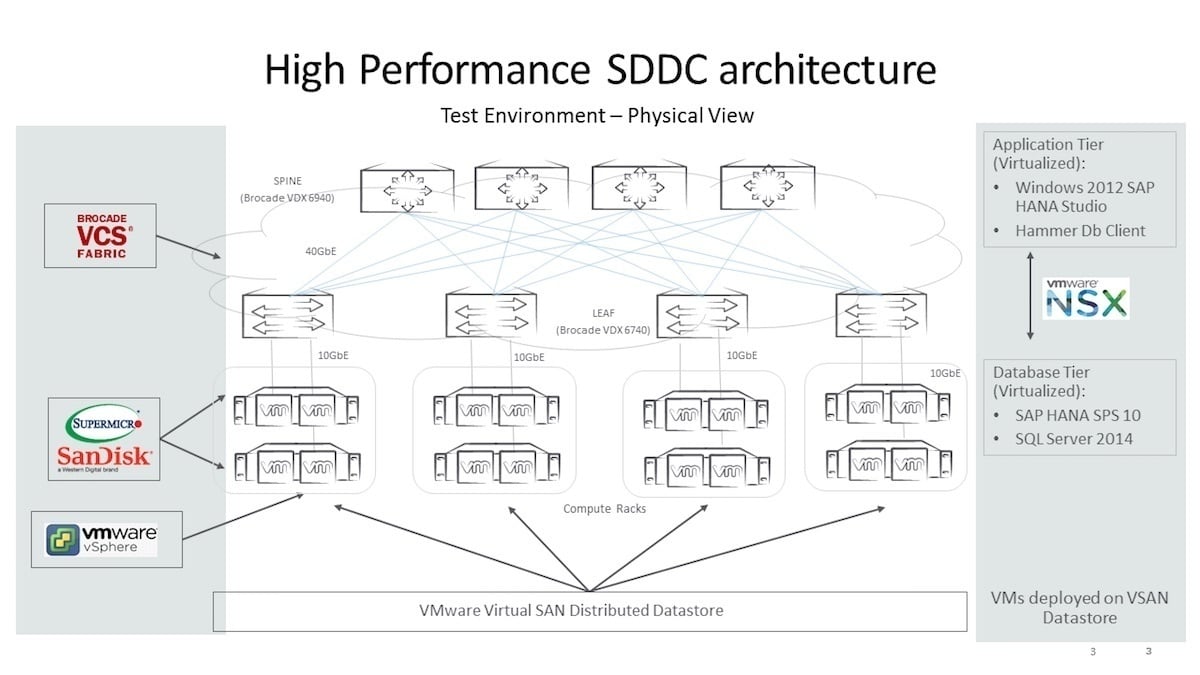 The next phase of this project is to show the efficacy of stretching this cluster across data centers using Brocade VCS fabrics to allow the agility for applications and databases to be moved between data centers. By stretching Virtual SAN clusters across data centers you can also provide resilience which is an important requirement for the high-performance SSDC of tomorrow.
Your Data Center Tomorrow
So back to the key question, "Where does your data center need to be tomorrow?"
If you are at VMworld, do visit the SanDisk booth to see how these certified products and integrated solutions can be used in your current and future data center.
You are welcome to join Mohan Potheri, Sr. Solutions Architect from VMware, Anuj Dewangan, Sr. Technical Marketing Architect from Brocade, and me to talk about running business critical applications in the SDDC at this session:
VIRT9459: High Performance Software Defined Data Center for Business Critical Applications
You can also join another team of database, virtualization, and storage experts to find out where your Software-Defined Data Center needs to be_TOMORROW in this session:
STO9607-SPO: Running Business Critical Applications and the Software-Defined Data Center on Hyperconverged Infrastructure at the Speed of Flash
Get some tips on how to best hyperconverge at the SanDisk booth #1955. We look forward to seeing you at VMworld, and we promise to be_HYPERUSERFRIENDLY.
[1] SOURCE: O'Connell, Adrian, "Forecast Analysis: Integrated Systems, Worldwide, 1Q15 Update," 05 August 2015 (G00275597)