At Western Digital, we're helping make STEAM dreams come true for the next generation of scientists, technologists, engineers, artists and mathematicians by partnering with the San Jose Sharks Foundation and Resource Area for Teaching (RAFT). RAFT is a Bay Area-based non-profit that provides teachers with fun and engaging supplemental lesson plans for their students, as well as activity kits, office supplies, and arts and crafts materials.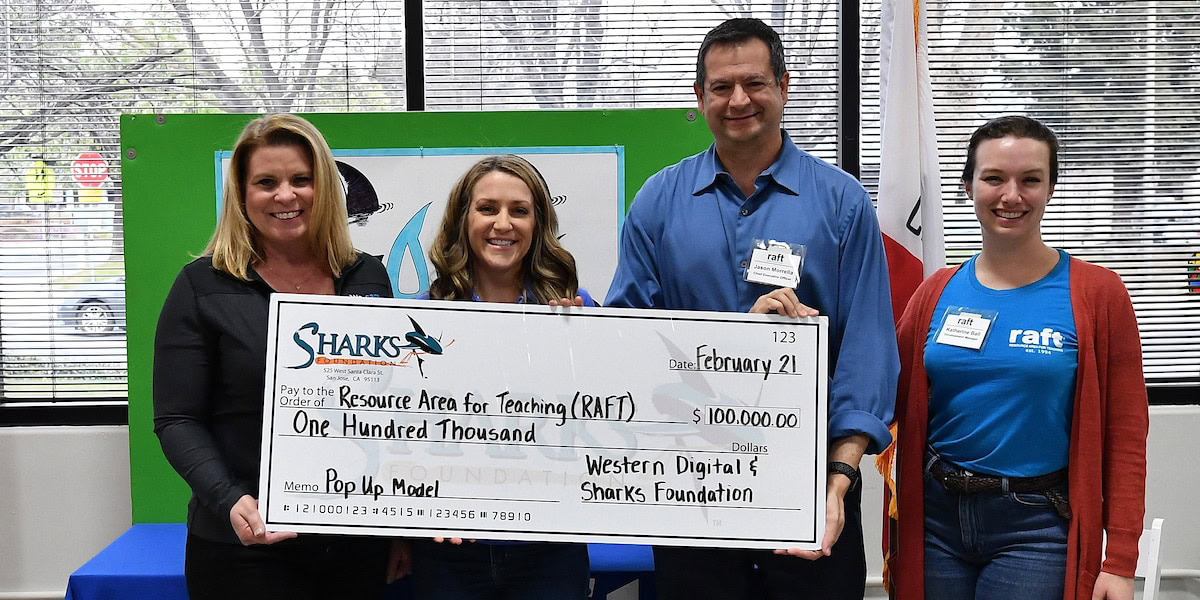 Western Digital has provided financial support for RAFT's programs since 2009, so the prospect of helping this great non-profit partner expand their reach and scale was exciting! Together with the Sharks Foundation, a pledge of $100,000 was made to help RAFT build their "Pop-Up Model" van. You can think of it as part-classroom and part science lab on wheels! I was proud to help announce the grant at a local volunteer event, hosted by RAFT. The activity brought together more than 100 volunteers to assemble STEAM project kits for Bay Area students. Take a look at what we accomplished together in just one day!
What We Built in the STEAM Kits
Rows upon rows of volunteers lined up to put together STEAM kits for students. The twist was that these kits, comprised of simple materials that come together to help teach complex concepts, were hockey-themed! One example was the "Car on a Roll" kit which helps K-12 students learn about the concepts of motion, friction, gravity, momentum, and potential vs. kinetic energy; these physics concepts can all be found in a hockey game! Another kit called the "Glove-a-Phone" is designed to help K-8 learners understand sound, vibration and music — things we hear when the crowd roars for a Sharks goal!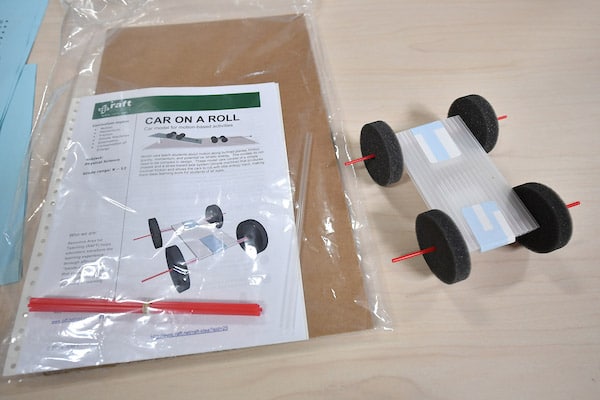 Taking STEAM Kits on a Bay Area Road Trip
The $100,000 Community Assist Grant will be used to take this STEAM show on the road! RAFT will use the funds to build a "Pop-Up Model" van, which will be retrofitted and completed by summer 2020. The van will increase RAFT's reach and visibility across the Bay Area, including Santa Clara, San Mateo, Monterey, and Alameda counties. Activity kits, curriculum, and training are all planned to be provided for free to teachers and students at applicable Title 1 schools and to extended learning providers throughout the region. By bringing STEAM education into the community, more educators will have access to learning materials that are creative, convenient, and engaging.
Making a Difference in the Bay Area and Beyond
By partnering with the San Jose Sharks Foundation, we're making a difference in our community. Currently, RAFT serves 8,000 educators and anticipates its "Pop-Up Model" project will reach an additional 250 teachers and serve 2,500 students within the first year. I'm looking forward to the positive impact that our contributions will have in helping students explore their academic dreams!

Learn More:
---