In the Zettabyte Age, data is the new lifeline. Data is transforming anything and everything at an unprecedented rate in the globally connected world. Businesses are constantly looking for new ways of collecting, storing, and transforming various forms of data to extract intelligence for better decisions, improve processes and efficiencies, develop technologies and innovative products, and ultimately maximize business profitability.
With data creating so much economic value, it is putting pressure on IT requirements to support peak workloads, storage tiering, data mining, and running complex algorithms using on-premises or hybrid cloud environments.
Today, industry-talk is mostly around NVMe™ SSDs to help meet these stringent workload demands; however, not all drives and workloads are created equal. Over the decades, enterprise OEMs, channel partners, and ecosystem players have continued to support and utilize Serial-Attached SCSI (SAS) to address performance, reliability, availability, and data service challenges for traditional enterprise server and storage workloads.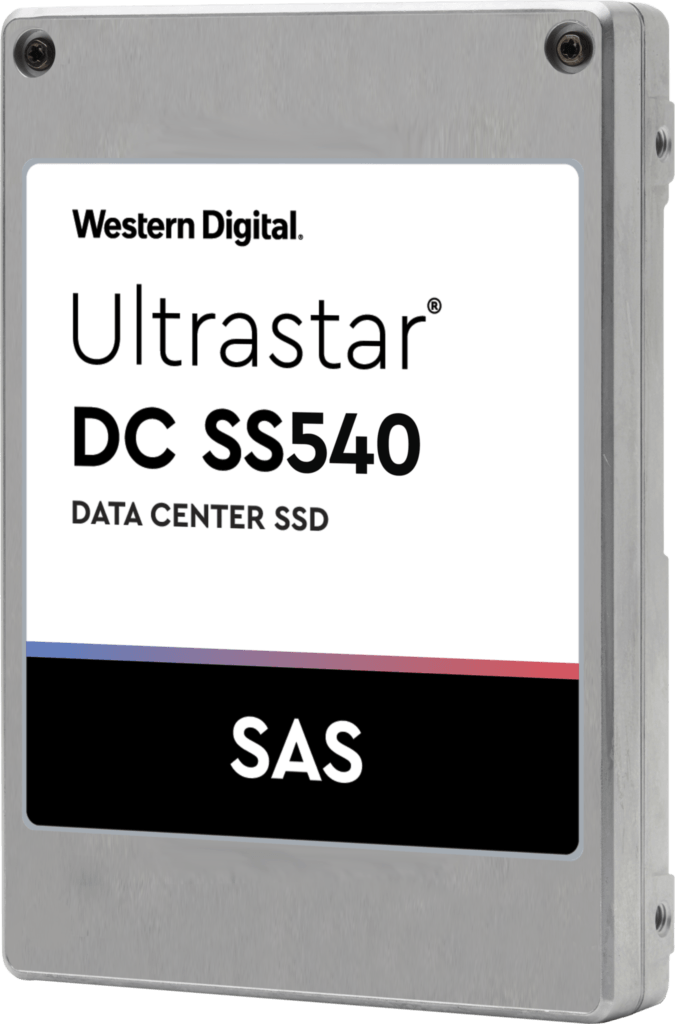 SAS — A reliable, proven interface supporting high-availability storage environments
Originally debuting in 2004, SAS has evolved over the decades delivering distinguishing and proven enterprise features such as high reliability, fault tolerance (dual-port), speed, and efficiency. As a result, it has become a desirable and popular choice to run traditional, mission-critical enterprise applications such as OLTP and OLAP, hyper converged infrastructure (HCI) and software-defined storage (SDS) workloads. And it still has traction. According to a leading-industry analyst firm, IDC*, it projects SAS to drive SSD market demand over 24% CAGR in PB growth through 2022, contributing to a combined 52% CAGR growth for the data center SSD market as a whole.
SAS continues to be a valued and trusted interface standard for enterprise storage customers worldwide," said Jeff Janukowicz, vice president, IDC. "With a robust feature set, backward compatibility, and an evolving roadmap, SAS will remain vital storage interconnect for demanding mission-critical data center workloads today and into the future.
Capitalizing on its decades of innovation and SAS expertise, Western Digital is announcing the Ultrastar® DC SS540 SAS SSDs, its 6th generation of SAS SSDs that provide exceptional performance by delivering up to 470K/240K random read/write IOPS. The DC SS540 offers reliability of 2.5 million hours mean-time-between-failure (MTBF) with 96-layer 3D NAND from Western Digital's joint venture with Intel. The new SAS SSD family is the ideal drive of choice for all-flash arrays (AFAs), caching tiers, HPC and SDS environments.
Ultrastar DC SS540 leverages existing SAS platform architecture, reliability, performance leadership, and various security and encryption options, which will lead to faster qualifications and time-to-market for enterprise and private cloud customers. The Ultrastar DC SS540 offers performance, enterprise-grade reliability, dual/single port, and multiple power options. It comes in capacities up to 15.36TB with soft SKU options to cover mainstream endurance choices and also reduce SKU management efforts for OEMs and channel customers. The Ultrastar DC SS540 is currently sampling and in qualification with select customers, with mass production scheduled for CYQ1 2020.
Learn more
Source: *IDC, Worldwide Solid State Drive Forecast, 2019–2023, Doc #US43828819, May 2019
Forward-Looking Statements
Certain blog and other posts on this website may contain forward-looking statements, including statements relating to expectations for our product portfolio, the market for our products, product development efforts, and the capacities, capabilities and applications of our products. These forward-looking statements are subject to risks and uncertainties that could cause actual results to differ materially from those expressed in the forward-looking statements, including development challenges or delays, supply chain and logistics issues, changes in markets, demand, global economic conditions and other risks and uncertainties listed in Western Digital Corporation's most recent quarterly and annual reports filed with the Securities and Exchange Commission, to which your attention is directed. Readers are cautioned not to place undue reliance on these forward-looking statements and we undertake no obligation to update these forward-looking statements to reflect subsequent events or circumstances.