Today at IFSEC London, Western Digital expanded its surveillance portfolio with the introduction of the industry's highest capacity, deep-learning capable surveillance-class drive: Western Digital® WD Purple 12TB with HelioSeal™ technology. This new surveillance-optimized drive provides the capacity and performance to access and transform recorded video data into valuable insights.
What's Driving Data Growth in Surveillance?
The amount of data generated by surveillance solutions is expected to grow by 25% per year through 20221. This growth is certainly driven by the installation of more cameras, and the implementation of vastly improved camera resolutions and technologies. To address this increase in the amount of video being generated as well as analytics being run in advanced NVRs, Western Digital has released an industry leading 12TB surveillance hard drive and an enhanced 10TB capacity model, both with high performance to help increase the storage bandwidth to enable high quality recording and efficient analytics to turn video into valuable information.
Today's traditional video surveillance systems can detect moving targets without advanced analytics. Having the ability to utilize artificial intelligence (AI) technology to not only detect but recognize objects such as humans, animals, leaves, and even light can help reduce the expense of police departments responding to false alarms.
Another example of adding value to recorded video data is the ability to analyze and search for specific items in the video via tags created by AI / Deep Learning features in the NVR. If there is a suspicious vehicle that has been identified in a given neighborhood or city, the ability to quickly search through the recorded video to see if that vehicle had been previously caught on camera by utilizing the tags and metadata created from the analysis can save hours of time and money.
WD Purple: Surveillance Capabilities for Today and Tomorrow
The Western Digital WD Purple 12TB drive and an enhanced 10TB drive have a number of advanced features not only for today's but also for tomorrow's advanced surveillance NVRs:
Industry's highest capacity Surveillance class hard drive at 12TB
– Providing the broadest surveillance drive capacity range from 1TB to 12TB
High performance 7200RPM and optimized caching with AllFrame AI
– Enables high quality recording for up to 16 channels of analysis of recorded video. High sequential and random performance provide the high storage bandwidth to support high quality recording of up to 64 cameras and up to 32 streams for AI analytics.
Increased workload rating to 360TB/year to support the increased workload for the advanced analytics in the NVR as well as video recording
Improved MTBF to 1,500,000 hours for high reliability and reduced TCO
Advanced vibration compensation to enable high performance in 1-16+ bay count NVR systems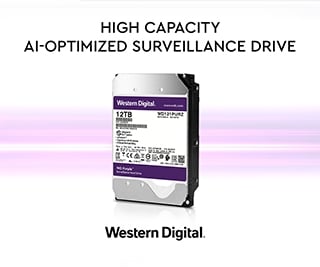 Western Digital's Portfolio for Surveillance from Edge to Cloud
Western Digital's edge-to-cloud portfolio of surveillance optimized solutions allows you to capture, store, and analyze your surveillance data. With the introduction of our new 12TB WD Purple hard drive, we provide the capacity and performance to access and transform that data into valuable insights. To learn more about deep learning and AI in surveillance, check out Brian Mallari's blog about the actionable insights surveillance data can provide with deep learning at the edge, on NVRs, or in the cloud.
Western Digital at IFSEC International
Western Digital is at IFSEC International in London, June 19-21, showcasing our edge-to-core storage technologies for surveillance. We've also partnered with pioneers who continue to advance innovation, in ways that we capture, store, and analyze surveillance video. Visit us in stand E200 to see how we're working with these leaders to continue to drive beyond surveillance to valuable new ways to leverage surveillance. Hear about how Axis Communications uses smart compression technologies to lower the total cost of ownership of a video surveillance system, while maintaining high image usability in deployments with bandwidth limitations. See how innovative analytics solutions can be implemented via Milestone's XProtect solutions using our enterprise-class storage utilized in cloud-based storage infrastructures.
Check out our Beyond Surveillance infographic for more on capturing, storing and analyzing data.
1Source: IDC Worldwide Hard Disk Drive 2017-2022 Forecast, May 2018, Doc #US43766218