People often ask, Why walk when you could ride? But Hugo Scagnetti rides because he can walk, and the ride he has undertaken is like no other.
Back in May, Mr. Scagnetti left Madrid on a Yamaha Super Ténéré XT1200Z with the intent of being the first solo motorcyclist to circumnavigate the globe. And with a nod to the novel by Jules Verne, he plans to complete the 23,000-mile journey in just 80 days.
This is no mere whim. It's the fulfillment of a promise made after a disease called avascular necrosis (AVN) left Mr. Scagnetti unable to walk without crutches. He vowed that if he regained the ability to walk unassisted, he'd ride the world to raise funds and awareness in support of biomedical technology breakthroughs and research into the field of stem cell tissue regeneration — particularly for children. Thanks to the stem cell work coming out of the REBORNE Project in Europe, Mr. Scagnetti did regain the ability to walk without crutches. In response, he began reaching out — to companies including Telefónica, Yamaha, SanDisk, and others — and the Telefónica Yamaha Globalrider 80 project was borne.
Since starting his journey, Mr. Scagnetti has ridden across France, Italy, Greece and Turkey, Georgia, Azerbaijan, Uzbekistan, Kazakhstan, Kyrgyzstan to arrive at the eastern edge of Russia. He recently flew to San Francisco where he'll continue across the U.S. and then fly over to the U.K. to complete the final leg of his round-the-world journey.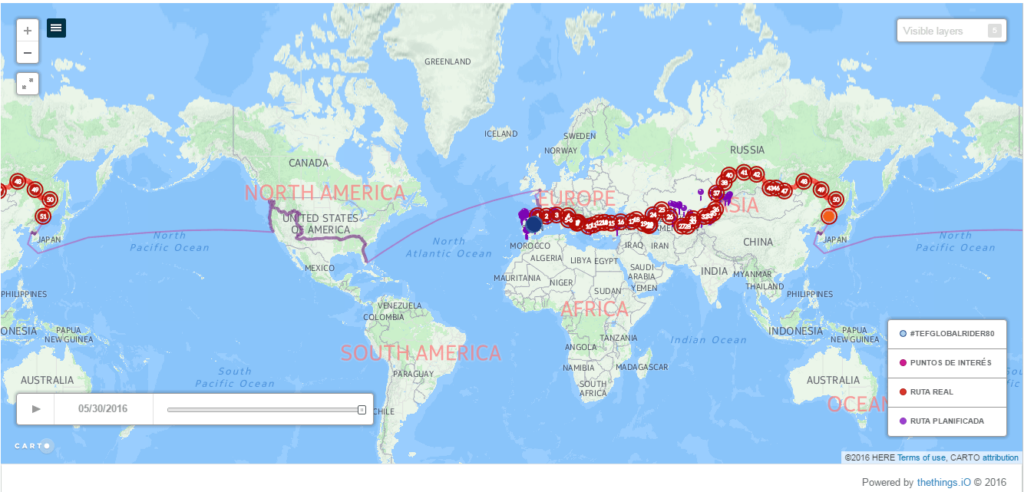 On July 27, the 61st day of his journey, Mr. Scagnetti visited SanDisk's offices in Milpitas to thank us for our sponsorship and to talk about his experiences.
"I've got SanDisk microSD cards in drone and the other four cameras on me as well as SanDisk SSDs in the IoT gateway on my motorcycle," said Mr. Scagnetti, "they're helping me document every aspect of this amazing journey. There are times when the roads are incredibly rough and the bike is bouncing all over, but I've never had a problem with the SSDs recording and communicating data captured by all the sensors on me and my bike. I was by myself, but I was never alone – thanks to the IoT gateway that keeps me connected.
When asked what was the most eye-opening about the ride, Mr. Scagnetti passionately responded: "The people," he said, "the human spirit. I've ridden through areas that have been devastated by wars and natural disasters, places that are supposed to be dangerous, yet the people I met even there are warm and welcoming. They are the testament to humanity that really brings home the sense of being connected.
"One of the things that's great about this ride," Mr. Scagnetti goes on to say, "is that I am able to share this journey with anyone the whole way. Not only can I relay my personal experiences and the excitement of the ride itself via the web, but I am also able to share information and images about the people I meet, the changing landscape, and much more."
Indeed, Mr. Scagnetti's motorbike and body are wirelessly connected with devices and technologies for the duration of his journey. Cameras on his bike and body (as well as on a drone flying overhead) will record and upload videos and images to the Internet via the IoT gateway on his bike. Sensors in the glove and belt he wears will capture information about his vital signs (pulse, respiration, stress, etc.) as he speeds along the roads. Other sensors on his bike will keep track of everything from tire pressure to engine oil levels and send that information back to Yamaha, where machine learning systems are analyzing the data both to help keep Mr. Scagnetti's ride working properly at every turn and to drive improvements in fuel efficiency and a reduced carbon footprint.
Additionally, the Globalrider team is using descriptive data collected from all the sensors combined with local news and weather forecast to generate predictive data to help the ride be safer and smoother. GPS and telemetry sensors on the bike help Mr. Scagnetti and his team know exactly where he is at every moment of his amazing journey. Indeed, when Mr. Scagnetti's 700-pound motorcycle fell over — as it has on two occasions —the Globalrider team knew about the falls the moment they happened — as well as exactly where the falls had fallen place, and what parts might need to be repaired. From the biomedical sensors Mr. Scagnetti was wearing, they also knew just how he was doing and they were able to help him get back on the road in short order.
"I'm kind of a walking showcase for the IoT," says Mr. Scagnetti. "I'm totally connected to the world. I'm doing this ride solo, but the truth is that I'm never alone."
"SanDisk is proud to be providing the critical storage technologies capturing all this data," said Oded Sagee, Sr. Director and GM of Connected Solutions at SanDisk of Western Digital. "This is going to be a once in a life-time experience for Mr. Scagnetti as well as for all the technology sponsors who are learning from all the data collected along the journey, and there's not a second of it his team is going to want to lose. Our job as a provider of leading edge storage products is to make sure that all the images and information are captured, recorded and communicated to the cloud in a timely, reliable manner. It's what we do well, and we're happy to help amplify Mr. Scagnetti's voice in the service of raising awareness about amazing biomedical technologies that are available today, the need for more stem-cell research, and the importance of emerging technologies that can bring people together and help make our world a better, greener place to live in."