Blockchain is the buzzword of the day thanks to the current frenzy over cryptocurrencies. But it's much bigger. Blockchain can be – and perhaps will be – used for recording every type of smart asset transaction, across many industries. I sat down with Steve Wong (@SteveWongLA) to understand what you need to know about blockchain in media and entertainment.
Blockchain vs. Bitcoin
People tend to confuse Bitcoin with the underlying technology of blockchain. What do media businesses need to do to understand the technology and how it may affect them?
With the buzz around blockchain and the confusion of its differentiation from bitcoin, people tend to think about the potential of blockchain in the context of currency; selling a song or getting funding for a film using cryptocurrency. The biggest problem with this is that it undermines what the power of blockchain truly is.
The power of blockchain is its ability to track intellectual property and deliver a proof of work. Blockchain creates a smart contract of an exchange between two parties that don't trust each other. That's the essence of Hollywood!
In Hollywood, content creators often don't know what, when, and how their content is consumed. Blockchain could offer visibility and access to the same facts to all stakeholders. It's a very unique opportunity for media & entertainment and it can support the entire workflow – from production to distribution.
Erik and I took deep dive into blockchain and the media industry in a joint webinar, focusing on how blockchain can impact Hollywood. You can watch it on-demand.
Monetizing Data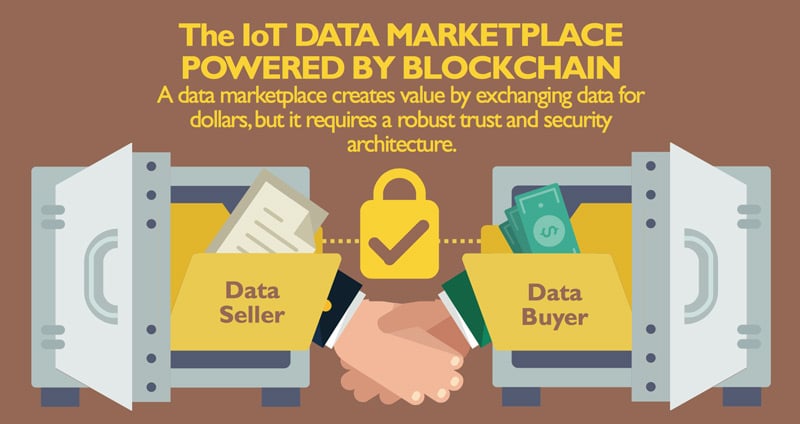 Yes! We'll see that in the near future the value that will be negotiated will not just pertain to image or sound, but to data.
What do I mean by this? Imagine a movie you loved in the 90s. That movie by now is pretty old. Maybe the studio can still sell some rights to a cable company or license a song for a commercial. Regardless, they already extracted all the monetary value they could have made from it.
However, if productions in the 90s already used blockchain to store all the data they currently have on paper – what an actress/actor wore in a particular scene, in which hotel the actors stayed in, or in what rooms they shot the scene – they could sell that data to third parties that can monetize it in different ways.
The examples are endless. Companies could produce and sell a particular suit, a purse, or other coveted wardrobe items from a film, series or scene. Hotels could promote (and charge) guests for staying in a room that a celebrity stayed in; or a room in which their favorite recording artists wrote a specific song.
There is so much opportunity! The data from these productions or songs could become more valuable than the moving image itself.
Blockchain in Media and Entertainment – Removing the Middle Man
Like many other sectors, the media industry is also eliminating the "middle man". Will blockchain accelerate this further?
Whether it's push and pull formats or blockchain, the technology is there and has been for a while. However, the challenge is not the technology but rather the business model and the structure of Hollywood.
Hollywood is operating in a model that is a hundred years old. That dynamic is changing though. And when that changes, we will see a whole new way of doing things; particularly, an industry that will be data-driven, and data-centric.
---
Steve Wong is a technologist and director of business development for DXC Technology (Hewlett Packard Enterprise/ CSC). He was recognized with a Primetime Emmy Award for Outstanding Achievement in Engineering Development, and a National Academy of Television Arts & Sciences (NATAS) 68th Annual Technology & Engineering Emmy Award.
Steve is a Member of the Interactive Media Peer Group of The National Academy of Television Arts & Sciences (The Emmy Awards), is an Executive Academy Member of The International Academy of Digital Arts and Sciences (The Webby Awards), a Hollywood Section SECRETARY/TREASURER of The Society of Motion Picture and Television Engineers® (SMPTE®).
Steve writes and produces independent feature films, is a visiting lecturer at the University of Southern California Marshall School of Business, and a mentor at the USC Incubator (startusc.com).
Forward-Looking Statements
Certain blog and other posts on this website may contain forward-looking statements, including statements relating to expectations for our product portfolio, the market for our products, product development efforts, and the capacities, capabilities and applications of our products. These forward-looking statements are subject to risks and uncertainties that could cause actual results to differ materially from those expressed in the forward-looking statements, including development challenges or delays, supply chain and logistics issues, changes in markets, demand, global economic conditions and other risks and uncertainties listed in Western Digital Corporation's most recent quarterly and annual reports filed with the Securities and Exchange Commission, to which your attention is directed. Readers are cautioned not to place undue reliance on these forward-looking statements and we undertake no obligation to update these forward-looking statements to reflect subsequent events or circumstances.