Earlier this year, Western Digital announced the latest edition of our Data Innovation Bazaar held in India with our lead partners, Startup India and Invest India, and ecosystem partners MeitY (Ministry of Electronics and Information Technology), Department of Science and Technology (DST), and TiE Delhi. Through this annual initiative, we are supporting the growth of India's vibrant entrepreneurial ecosystem and helping address key economic and societal needs with data. We believe that it is important to explore how data can enable communities that are healthier, safer, more prosperous, and more sustainable.
Recently, we shared the forty startups shortlisted for the Data Innovation Bazaar 2020. These teams are based in India and placed within the top five percent of all startups that entered the competition – an impressive accomplishment from a pool of 963 entrants! Each of these startups automatically receives membership into TiE Delhi NCR, a nonprofit organization on a mission to support budding entrepreneurs around the world through mentoring, networking, education, funding and incubation.
National Challenges from AgriTech to Smart Video
Nearly 50 percent of entries this year were for either the "Education" or "Healthcare" sectors. This underscores the universal need for learning systems and medical care that is accessible, high-quality, and scalable across India and the world at large. Of our 40 shortlisted teams, "Agriculture" and "Healthcare" were the most represented sectors with eight and six teams shortlisted, respectively. The remaining chosen startups were distributed across topics such as connected buildings, education, energy and environment, logistics, connected transportation, smart cities, and smart video.
Below, we highlight two participating startups – Sensegrass and Aarca Research – that are using connected technologies to revolutionize agriculture and healthcare. These companies were selected to be profiled after responding to an interview request sent to the full lineup of shortlisted teams.
Sensegrass – Real-Time Agricultural Health Notifications Using AI and IoT
How does your technology work?
We use a combination of IoT device hardware and software. The software includes a mobile application and WAP dashboard. Installing our plug-and-play hardware in crop fields is simple, and the device transfers soil data to the cloud – where it is analyzed using AI and ML. Our data science team developed a neural network for soil intelligence using millions of public and private data points. Real-time notifications are sent to farmers and other users to adjust their farming practices based on current soil levels.
Which partners do you work with?
We mainly work with agriculture and food companies, small-to-mid size farmers, non-profits, banking and insurance firms (consulting for farmers), and agricultural tech (AgriTech) companies.
Why are you so passionate about precision farming?
I am a third-generation farmer, so this industry is personal to me. Around 2018, I had been working in rural development, especially in India, and sustainable development for almost 4 to 5 years. My first startup was working with the rural communities in arts and crafts. My team and I started to do research and realized that agriculture is a very broken industry, especially in some developing nations. We had an idea to launch Sensegrass as an efficient, high-end solution to help small-to-midsized farmers – who make up a majority of the global farming industry. I am proud to lead a green company providing social impact through sustainable agriculture.
Aarca Research – Predicting Life-Threatening Diseases with Video Data
Tell us a little bit about Aarca Research.
We are a healthcare company doing intelligent health risk assessment using a non-invasive method for type-2 diabetes, hypertension and cholesterol monitoring. Our goal is to provide accessible and cost-effective preventative healthcare with a predictive system that uses AI, computer vision, ML, and thermography.
How does your technology work?
Our users record a one-minute video using an FDA-approved thermal camera at one of our pre-designated partner sites, and upload that video to our cloud-based service. Then, we use AI, computer vision, and ML to process the anonymized, healthcare privacy compliant data. Based on this analysis, we provide a risk index on a scale of 0-10 with an individual's risk of developing type-2 diabetes, hypertension, or cholesterol. 0-3 is low, 3-6 is medium and 6-10 is high. High-risk users are immediately notified to get a blood test within a month, while medium-risk users are advised to get the same test within six months.
Which partners do you work with?
We primarily work with medium-to-large enterprises, digital health companies, hospitals, healthcare providers, and medical research institutions.
Why are you so passionate about predictive healthcare?
My father actually was a long-term diabetic and he was trying to keep his diabetes in control for more than 15 years. It was always within his limit, but he suffered a severe brain stroke and my family lost him. After this, my sister – who is a physician – and I wanted to find a way to help prevent diseases like this from happening in the future. We spent a year and a half identifying various technologies in the market, but there were not proven case studies on pre-diagnosis of diabetes. In the end, we landed on thermography. While it's not a conclusive test such as an MRI, X-ray, or blood test, we wanted it to at least provide people with an accurate risk ahead of time. That way, they could proactively take steps to delay or prevent the onset of these debilitating diseases.
---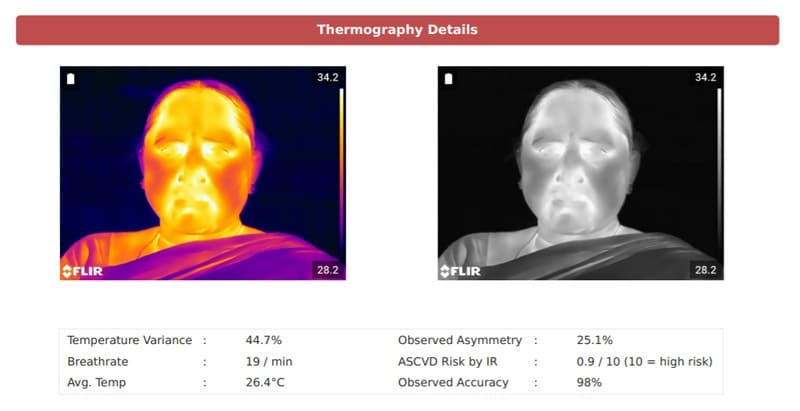 ---
Winners Announcement and Entrepreneur Bootcamp
Recently, we hosted an exclusive virtual event for the shortlisted teams and their invited guests. During the ceremony, we announced the top three winners of the Data Innovation Bazaar. They won a total cash prize worth up to Rs. 20 lakhs (~$26,000 USD). In addition, ten startups were invited to attend an exclusive, three-day innovation boot camp event with Western Digital leadership, where the teams will learn how to ramp up their business operations.
Stay Connected with the Data Innovation Bazaar
I invite you to visit the challenge website to stay up-to-date with news about our winners' announcement, invite-only entrepreneur boot camp, and more exciting data innovation year-round.