The kids have just gone back to school, the days are starting to get shorter, and Las Vegas is sweltering along in the triple digits, so it must be time for VMworld® 2018!
Western Digital, and our HGST, Tegile and SanDisk brands, have worked with VMware® and attended VMworld for many, many years now. This year we'll be present with a talk entitled "What Can NVMe™ Do for You?" in the Solutions Theater on Monday, August 27, at 11:20AM, and with an interactive booth in the Solutions Exchange. It's my fifth VMworld, personally, and I'm as excited about this upcoming one as I was about my first VMworld as there are so many changes coming to the industry.
What's new in the world of data infrastructure for virtualization?
After all these years, virtualization ought to be boring. Multiple major cloud providers allow "Cloud-Native" companies to run their entire infrastructure without having a single physical server. X-as-a-Service (SaaS, PaaS, etc.) is a commonplace way of delivering products that is founded on the idea of virtualizing workloads to allow scaling up and down easily. Even home users are beginning to take advantage of virtualization to enable more secure web browsing.
So, virtualization ought to be boring. But it isn't, thanks to new technologies like NVM Express™ (NVMe™) that are opening new possibilities for what you can do with data. NVMe provides massive speed and latency improvements to virtualized applications, both inside and outside of the server. Our recently announced Ultrastar® DC SN620, for example, can provide three times the throughput of enterprise SSDs, in the same 2.5" form factor. NVMe also powers the extreme performance of IntelliFlash™ N-Series storage arrays with latencies in the range of 100s of microseconds for real-time transactions and analytics.
It's not only NVMe that makes virtualization exciting today. With the advent of hyperconverged infrastructure (HCI) such as VMware vSAN™, where servers in a cluster share their own resources to avoid the need for a separate SAN or NAS, local storage for virtualization has become even more critical than before. By combining NVMe SSDs with hard drives, you can create a hybrid HCI configuration that balances storage capacity and cost while keeping performance high. An all-flash solution combining NVMe SSDs for performance and SAS SSDs like the Ultrastar DC SS530, for capacity can provide uncompromising performance for business critical applications – check out our latest blog with testing results in a vSAN configuration.
See the future of data infrastructure in booth #2001
Western Digital is at the heart of this virtualization renaissance. VMware's theme for VMworld this year is, "Possibilities Begin with You." With Western Digital technologies and products, we help our partners and you harness those possibilities to the fullest, and our booth is a great way to find out how.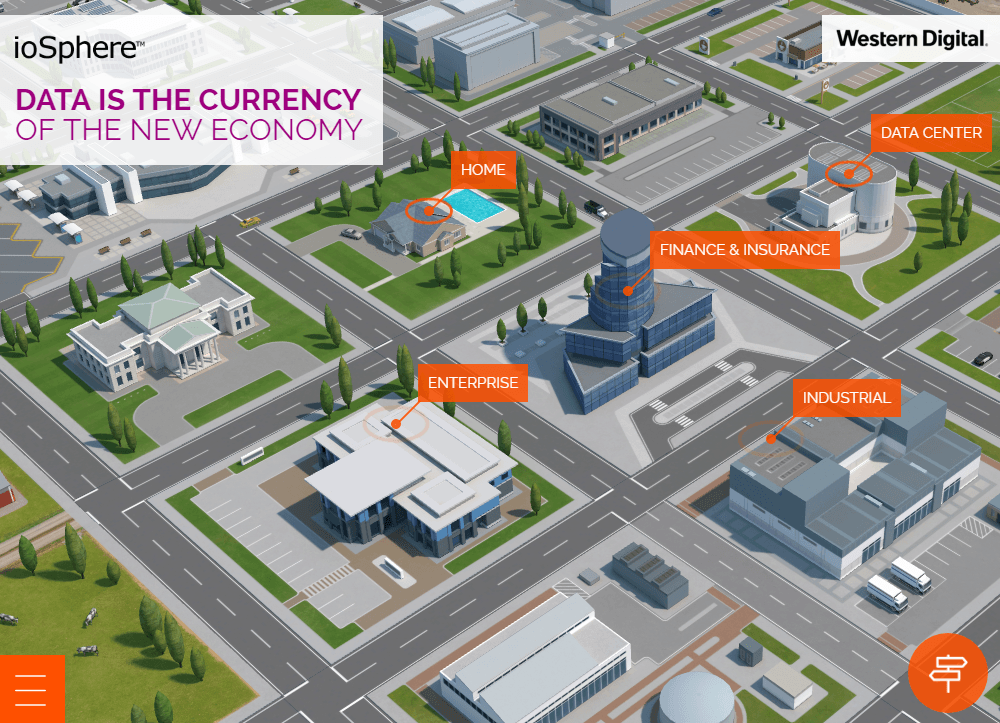 Our team will be demonstrating ioSphere™, a 3D interactive map of the products and solutions Western Digital produces, and where they can be found in everyday life. IoSphere is an animated guide that lets you uncover places where you probably didn't know Western Digital products are used today. Discover how we are helping shape the future of edge to core, and the affects of everything from 5G to agriculture and machine learning in the future.
For those who are looking for stand-alone storage solutions, we will be showing Intelliflash systems with NVMe powered rich data management features, and Western Digital ActiveScale™ solutions for massive object and file storage needs. We've dedicated a spot to our certified vSAN solutions and partners, as well so you can see a full spectrum of how we help organizations transform their infrastructure to drive business results, open revenue streams and gain more value from data.
Finally, our booth will also have a theater with talks on the hour from our partners and our own experts covering such subjects as:
Accelerating machine learning with flash technology.
Going all-flash for Tier-1 applications.
Running high performance, containerized databases using SSD and HDDs.
Practical use of NVMe in data infrastructure.
and many more.
Come and get a quick overview of new products and solutions without having to dedicate hours to a whole conference session. Our speakers also are available afterwards to help with more personalized or detailed information and, while you're there, don't forget to pick up a free copy of the NVMe for Dummies book!
See You There!
I look forward to meeting you at Western Digital's booth in the VMworld 2018 Solutions Exchange, #2001, this August 26th through 30th!
Learn More