In the opening paragraph introducing my recent guest blog on VMware blogs, Michael Haag, Product Line Marketing Manager in the Storage and Availability Business Unit at VMware described SanDisk® as "one of our highly-valued partners on a number of initiatives, including Virtual SAN and vSphere APIs for IO Filtering (VAIO)". In this blog I will explain how customers can realize the maximum benefits from their Virtual SAN projects by choosing solutions from SanDisk and our partners.
The Promised Benefits Of Hyper-Converged Solutions
IT professionals are rightly excited by the promised benefits of hyper-converged solutions incorporating server, storage and network virtualization into one package. These benefits include: 1) ease of use – in provisioning and managing all resources; 2) high and consistent performance with the aid of flash storage; and, 3) lower costs.
Software-Defined Storage (SDS) in general, and VMware Virtual SAN in particular, offers IT professionals a clear opportunity to reap these benefits by hyper-converging server and storage resources. SanDisk recognized this from the early days of SDS. However, in order to really reap these benefits, SanDisk worked with VMware and our ecosystem partners to address some of the key obstacles to success.
As this diagram indicates, Virtual SAN can be used for different use cases and with the release of Virtual SAN 6, it is now possible to run business critical applications.

Performance, Cost or Capacity?
The first pertinent point to recognize is that depending on the use case and the required quality of service by customers, you may need to build your Virtual SAN by optimizing for performance, cost or capacity. SanDisk recognized this and have worked closely with VMware to deliver the industry's broadest portfolio of flash solutions which are certified for Virtual SAN so you can choose the most appropriate caching and capacity drives to optimize for your use case. Here's is a summary of the options available today and we shall continue to add to the list.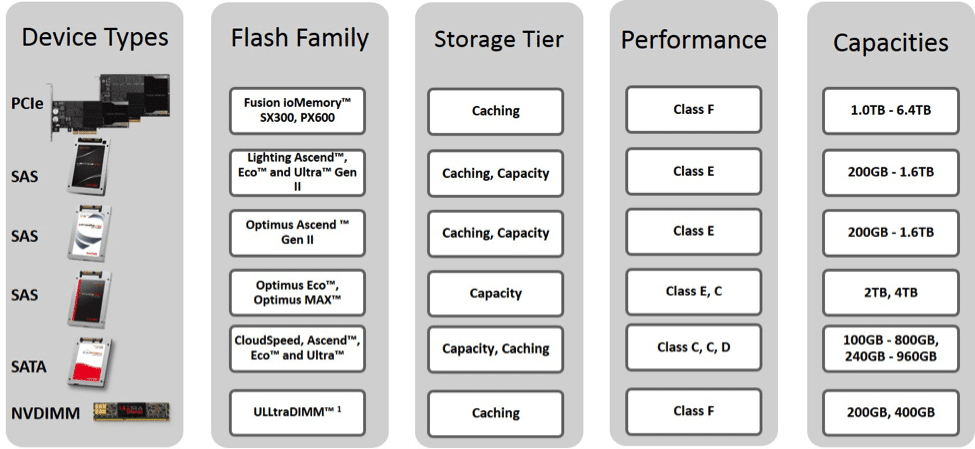 Beyond Speeds and Feeds
Second, for customers to derive maximum business values, they need to run business critical applications and access these applications using their clients or desktops. Hence, instead of just focusing on speed and feed represented by IOPs and bandwidths, SanDisk has focused in working with VMware and our OEM partners to test and build reference architectures using Virtual SAN to run business critical applications and databases such as Microsoft SQL Server and Oracle 12c databases. In addition, we also built reference architectures for running VDI desktops with Horizon View. The process is for these reference architectures to be developed and then utilized to deliver Virtual SAN solutions or Ready Nodes.
For the most utilized business critical application in the VMware environment – SQL Server – we completed an All-Flash Virtual SAN with Lenovo which was tested to deliver over 3 million New Orders Per Minute using our 4TB Optimus MAX, SQL Server and the HammerDB load generation and benchmarking tool. Take a look at the solution brief and Rawlinson Rivera's "The Red Ferrari" blog. For Oracle, 12c we utilized the Lightning Ascend for caching and Lightning Ascend Eco for capacity for an all-Flash Virtual SAN.
What about VDI desktops? Yes, we have hybrid or All-Flash options to choose from. For customers who want to compensate the lower $/GB of HDDs capacity storage with high performance caching we developed a reference architecture with HP using our Fusion ioMemory PCIe drives – currently the highest performing and highest capacity flash that has been certified for Virtual SAN 6. Take a look at the white paper and a blog of the solution by Biswapati Bhattacharjee.
If you are seeking to drive the maximum number of desktops take a look at the industry's first 12G end-to-end all-flash Virtual SAN for 800 desktops on a 4-node configuration. Check out the solution brief and reference architecture of the solution.
Maximum Business Benefits
One very important lesson from our work is that – from a business benefits perspective – Virtual SAN solutions like the ones above need to be optimize for performance, cost or capacity AND these have to be tested thoroughly with the other key components of storage controllers, networking and server components. Since SanDisk provide both the broadest certified caching and capacity drives for Virtual SAN, we are uniquely positioned to deliver solutions to enable customers to realize the maximum business benefits by working with OEM partners to provide solutions which are optimized for business critical and VDI workloads.
Opportunities to Learn More
Webinars
To find out more, join Michael Haag and myself for a webinar titled "Running Business Critical Applications and VDI with All Flash VMware VSAN"
Running Business Critical Applications and VDI with All Flash VMware VSAN
USA – Sept. 30 at 11:30 AM PDT
EMEA – Oct 6 at 7:00 AM PDT (4:00 PM CET)
VMworld Europe
Join session STO5157 by my colleague Biswapati Bhattacharjee and Jase McCarty from VMware on Wednesday, Oct 14, 11:00 AM – 12:00 PM.
Trusted Partners
By selecting one of these Virtual SAN solutions jointly developed by SanDisk and VMware, you know you will have a solution which will serve you well in realizing your business objectives from companies that have been and will continue to be leaders in their respective fields.