The SD card foresaw the future. Here's what it's telling us now.
By Yosi Pinto
When Micky Holtzman and I were asked to work on a new solution combining SanDisk's memory production, our knowledge in MMC and developing a flash controller, I had no idea how far this project would take us. It was 1999, and flash memory was expensive and hard to compete with storage technologies of the time like floppy disks (believe it or not, more than five billion were sold per year worldwide around that time[1]). We worked in utter secrecy, traveling the world and meeting with our partners at Toshiba and Panasonic as if we were covert agents. SanDisk's Engineering and SD card-related strategy at that time was led by Yoram Cedar.
The team driving the concept of the SD card had a vision of what this new standard could power. Every aspect of the design was important – from what it could support, to how you insert it into a device, to how the communications worked. It wasn't just about creating a technology, it was about how to turn an idea into a commercial product.
This was the turn of the century. The first mobile phones with a camera had just been introduced (albeit with 0.35-megapixels, and photos weren't viewable on the device itself[2]). And, while we could play "Snake", things like digital music players, social networking, ubiquitous video chat capabilities – let alone, smartphones – didn't even exist yet.
The idea for the SD card was about foreseeing the coming of small handy electronic devices and the value that such small memory devices may enable. Devices like: digital music players, tablets, high-resolution digital cameras, personal video cameras, smartphones, and more.
This poster from twenty years ago might be funny in how we thought smartphones would look, but it was truly visionary as to exactly where technology would head over the next two decades.
It was also about understanding the power of a standard. At that time, the memory card marketplace was a confusing mix of largely proprietary cards. A card for one device could not be used for another one. But we were able to change that.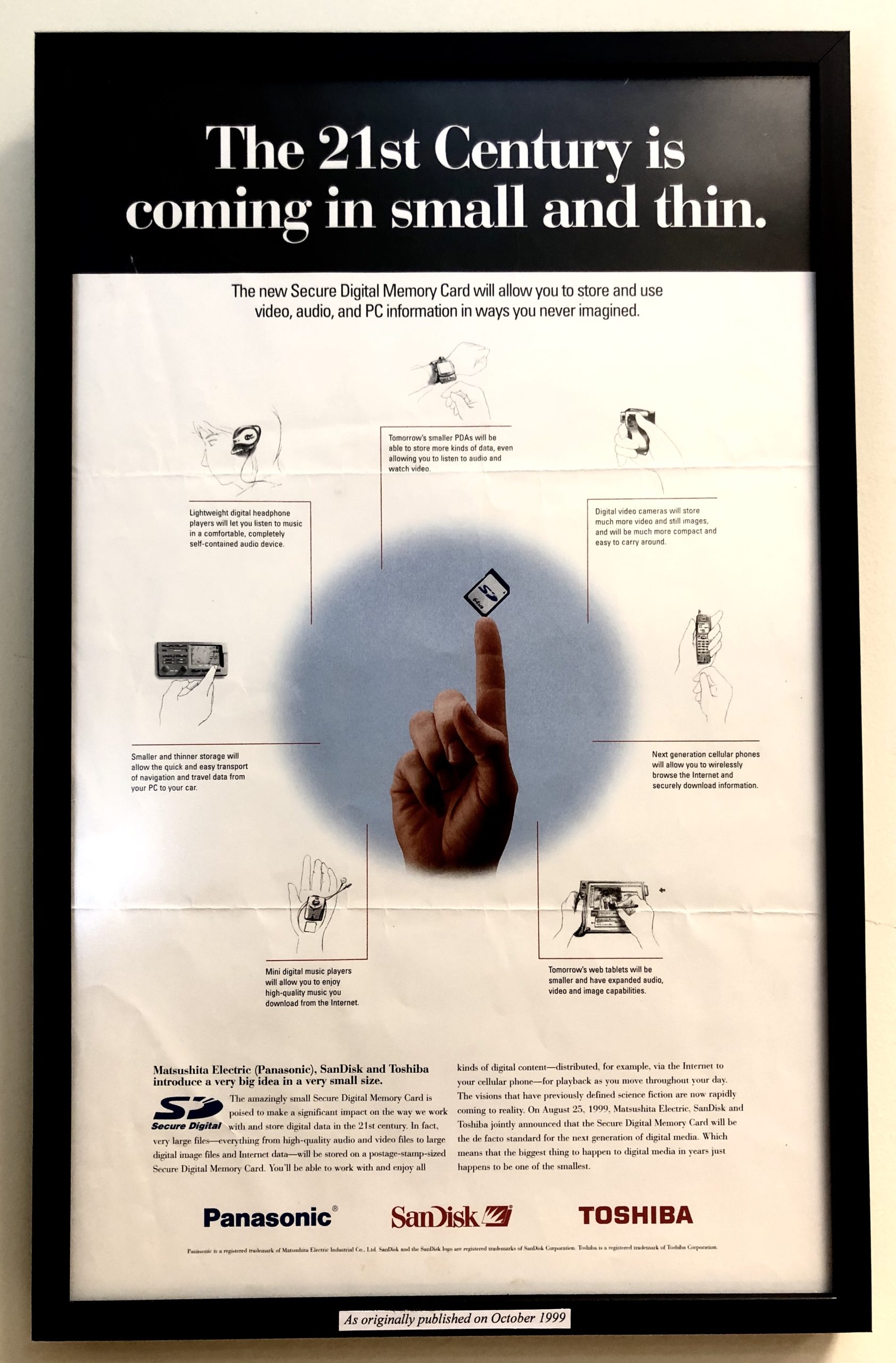 Through the formation of the SD Association (SDA), celebrating its 20th anniversary this year, and its dedicated fast-growing number of members worldwide, the SD memory card became the de facto leading standard for the next generation of digital media.
What Does the SD Card Tell Us 20 Years Later?
Now, 20 years later, where is technology headed? Is the SD card still relevant for the next decade of technology? What's next?
First, we hear it often, but the impact of the growth of data cannot be overstated. Billions of connected devices are expected to generate 79.4 zettabytes (ZB) of data in 2025.[3] Furthermore, the capabilities of 5G networks promise to open up a new realm of possibilities, but it also will require overcoming some of the bottlenecks of supporting hardware. On the storage end, that means delivering even larger capacities and higher-performance capabilities. 
Twenty years ago we could not imagine the type of applications that would become omnipresent in our lives, like social media, or how many images we would each create and consume on a daily basis. But we knew something big would be coming through the evolution of highly condensed and affordable memory. The first SD card had 8MB of memory. Now, with the evolution of 3D NAND scaling, people can store up to 1TB of data on microSD™ memory cards – almost a 125,000x capacity increase – due to our memory technology scaling and packaging capabilities [4]. Speed, too, has increased nearly 100 times.[5]
Similarly, there are emerging technologies that will make great strides into our lives over the next few years. Among them are autonomous vehicles, Artificial Intelligence, VR/AR, high-resolution gaming, and multi-channel IoT devices.
All of these will require new, high-speed memory interfaces and multi-channel operations to come to life.
The SD Card Reinvents Itself
In anticipation of the next generation of mobile experiences, the SD Card has undergone an interesting transformation. A new standard was created last year, SD Express and microSD Express, that added PCIe®technology and the NVMe™ protocol to the popular SD card.
The first result is monstrous performance. As you can see in the graph below, the latest iteration offers 40x the performance of UHS–I devices. This is where we get a glimpse into the future. Such performance capabilities allow these tiny SD memory cards to serve as full-fledged removable Solid State Drives (SSD) while keeping backward compatibility to billions of existing SD card slots in the market. This also opens up new possibilities for smaller, lighter, mobile devices for next generation applications (like small drones that can capture multiple high-res camera feeds).

Raising the Tide
Data is getting bigger, and we need to move it faster. Wearables, AR, multiple camera feeds, drones, personal computing expansion, smart home devices, automotive, AI and IoT are just some of the areas we'll see this new standard bring data to life. Just like the SD card foresaw what was coming, these new SD Express and microSD Express standards are raising the tide for higher performance possibilities, and they, too, will open up new use cases for internal and removable storage.
A little over five years ago, the President of the United States held a SanDisk SD Card as he honored former SanDisk CEO, Eli Harari, as a recipient of the National Medal of Technology and Innovation.[6] I wonder what technology we'll see on that stage in ten years' time.
Flash Forward
Watch the first microSD Express demo.
Learn about our embedded and removable storage devices.
Watch Eli Harari as he spoke to reporters after he was awarded the National Medal of Technology and Innovation for his work with SanDisk to develop flash memory storage technology: https://www.c-span.org/video/?322856-3/national-medal-science-technology-winners-stakeout
[1] https://www.ibm.com/ibm/history/ibm100/us/en/icons/floppy/
[2] https://www.digitaltrends.com/mobile/camera-phone-history/
[4] SD & microSD memory cards – The world's first choice in memory cards – 20 years of innovation. https://www.sdcard.org/press/whatsnew/SD_microSDMemoryCardsTheWorldsFirstChoiceInMemoryCards_20YearsOfinnovation.pdf
[5] SDA 20th Anniversary Infographic. https://www.sdcard.org/press/whatsnew/SDA20thAnniversary_Infographic.pdf
[6] https://www.gettyimages.com/detail/news-photo/president-barack-obama-looks-at-a-sandisk-flash-memory-card-news-photo/459299440
Forward-Looking Statements
Certain blog and other posts on this website may contain forward-looking statements, including statements relating to expectations for our product portfolio, the market for our products, product development efforts, and the capacities, capabilities and applications of our products. These forward-looking statements are subject to risks and uncertainties that could cause actual results to differ materially from those expressed in the forward-looking statements, including development challenges or delays, supply chain and logistics issues, changes in markets, demand, global economic conditions and other risks and uncertainties listed in Western Digital Corporation's most recent quarterly and annual reports filed with the Securities and Exchange Commission, to which your attention is directed. Readers are cautioned not to place undue reliance on these forward-looking statements and we undertake no obligation to update these forward-looking statements to reflect subsequent events or circumstances.
SD and related marks and logos are trademarks of SD-3C LLC. © 2019-2020 SD-3C LLC. All Rights Reserved.
PCIe® is a registered trademark of PCI-SIG®.
NVM ExpressTM and NVMeTM are trademarks of NVM Express, Inc.