Regardless of when and how we'll get to autonomous driving, one thing is certain – data in cars is growing fast. Here's a view into challenges of automotive edge and the data infrastructure needed to power the future of smart transportation.
Whether you're actively contributing to the autonomous future, being an avid follower of the automotive industry, or only a car driver, one thing is clear – the industry is undergoing massive changes that impact everything from manufacturing and global economics to what we expect from a driving experience.
Simply put – demand has changed. On the one hand, buyer purchasing decisions are affected by a greater focus on environmental impact, the consequences of urbanization and new shared transportation options.[1] On the other hand, consumers are looking for further added value powered by edge technology and connected vehicles. They are no longer buying the same cars they used to.
Buckle Up for More Data On Board
Cars are gaining more intelligence. There is a mainstreaming of applications that were once available only in high-end vehicles such as dashboard cameras, digital clusters, vehicle to everything (V2X) communications, safety sensors for Advanced Driver-Assistance Systems (ADAS), and even AI. Many of these are technologies intended to bring us to the eventual goal of the self-driving car.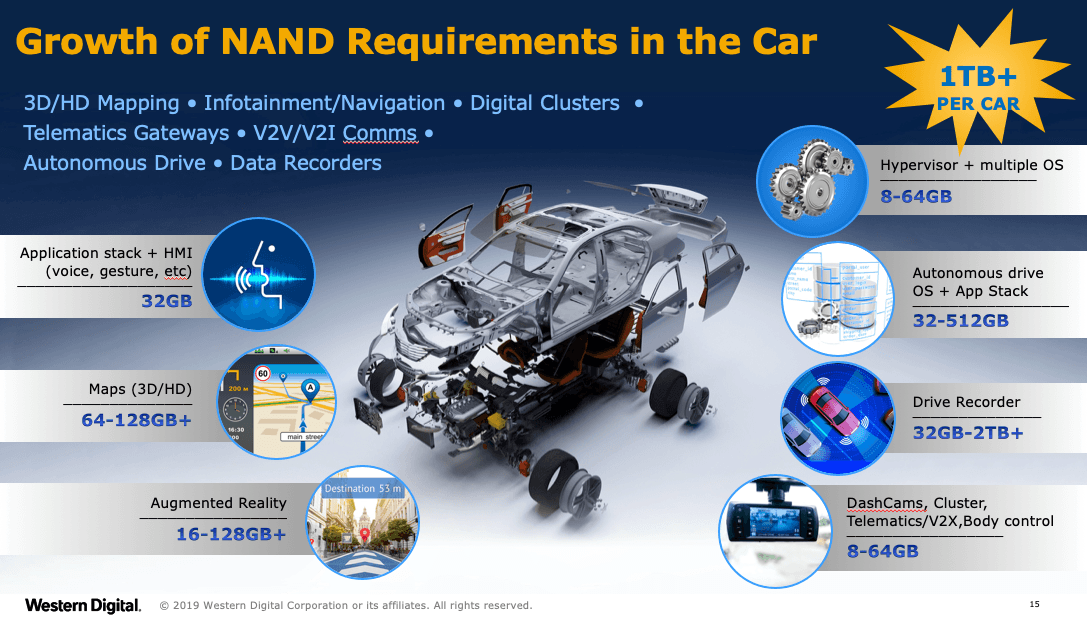 Yet regardless of when and how we'll get to autonomous driving, one thing is certain – data in cars is growing fast. We're going to see cars having a total of ~1TB of data storage already in the near future. Moreover, if you're managing a fleet, you'll see those vehicles evolving to exceed 1TB as they will be collecting far more data to increase efficiency and help business gain insight on operations.
Automotive Edge – A Complex World of Data Storage
With the introduction of NAND flash storage solutions, new possibilities (such as smart driving) were made possible by its small form factors and big capacities. As we look at the car as an endpoint, we find multiple, diverse edge storage devices powering different types of data. This is because the requirements and challenges of automotive edge vary significantly across different use cases. As workloads become more specific and data-hungry, the data infrastructure, too, needs to be optimized for the task at hand.
The requirements and challenges of automotive edge vary significantly across different use cases.
For example, specific applications in the car will require data to operate under extreme temperature conditions. A car's interface and safety features need to be fully functional even if you park it under the sun during summer in Phoenix, or amid a blizzard in Milwaukee.
Additionally, some data in the connected car is only kept for a few seconds, while other data must be retained for days, months or even years. Same goes for capacity requirement diversity. Your digital dashboard requires very little capacity to operate while navigation and entertainment naturally depend on large file sizes such as maps, images, and music files.
Automotive Edge – An Array of Storage Form Factors
To meet these varying demands the industry adopted multiple storage form factors:
Removable SD™ Card
Your car today likely has a slot for a removable SD card. You may have used it to load new maps to your navigation, or to record data from your dash camera so you can dispute a ticket, capture an accident, or some other crazy event. Automotive-grade SD Cards offer high reliability, traceability, and removability allowing production line flexibility as well as ease of updating and accessing data for infotainment, navigation applications and data logging/data collection applications.
MMC
e.MMC has been an accessible embedded interface in automotive systems for quite some time as it provides larger capacity and a reliable data storage solution for complex operations. Today it is the common interface for advanced applications like in-vehicle infotainment (IVI) or autonomous drive systems, as well as telematics and digital clusters that use the interface but often leverage lower capacity options.
UFS
Universal Flash Storage (UFS) is the newest interface used in automotive and today still not as common as e.MMC. It offers a faster interface for next-generation applications such as e-cockpits, Advanced Driver-Assistance Systems (ADAS), and AI-enabled autonomous drive systems.
Introducing the Next Generation of e.MMC
I'm excited to share that, this morning, we launched the iNAND AT EM132 EFD. It is the industry's first e.MMC 5.1 product for the automotive market based on 3D NAND, and delivers the automotive industry's highest capacity e.MMC with 256GB.
The automotive industry's highest capacity e.MMC product and the first based on 3D NAND.
We've talked a lot about the benefits of our 3D NAND design in achieving higher capacities, better reliability and flexibility as far as design characteristics. This new product is an excellent example of these advantages and allows our ecosystem partners to extend the life of e.MMC, address increasing capacity demands and enable connected and autonomous systems to capture, store and process data quickly.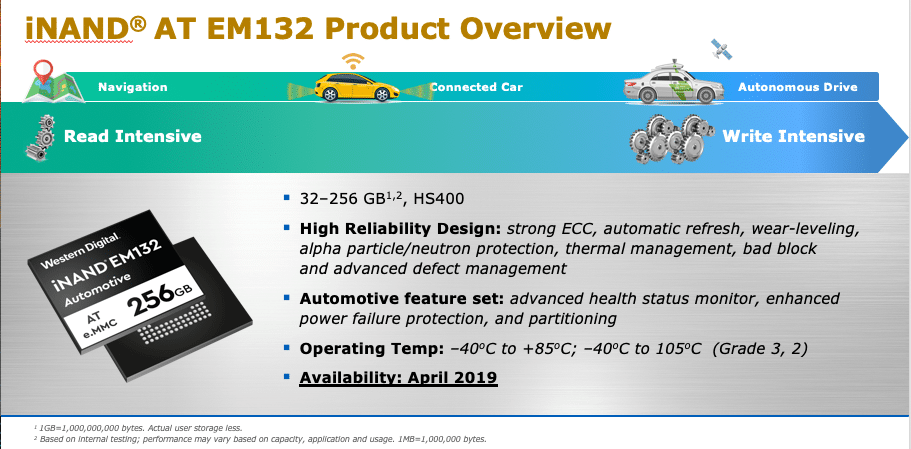 What it Takes to Build a Future of Smart Transportation
The introduction of 5G networks alongside future AI and AR applications will be vital to achieving autonomous driving and opening possibilities for new business models, smarter cities and better experiences as we move from the driver's seat to the rider.
We are excited about these possibilities and committed to helping the automotive industry evolve to a connected and autonomous future. We're continuously developing new storage solutions for the automotive market that meet quality and certification guidelines. Additionally, we strive to deliver products with maximum reliability, optimized for extreme temperature and vibration, with data retention exceeding JEDEC standards, all the while driving capacity and performance capabilities forward.
Take the opportunity to learn more about how we're building the data infrastructure to help make connected vehicles and smart transportation possible: