Recently, I gave the opening remarks and sat in on a panel at A Data-Driven Future, an automotive industry event hosted by Western Digital and WIRED magazine. Our theme centered on a simple question: In 2039, what might the future of mobility and transportation look like? The answer to this question, understandably, is much more complicated. It depends greatly on progress in self-driving and connected cars by OEMs and automotive startups – not to mention the federal policies that regulate them. At the same time, automakers will have to deal with collecting, storing, and computing massive amounts of data onboard vehicles – storage alone is estimated to balloon to 2+ TB per vehicle in the next decade.
In this blog post, I recap my key takeaways from the event to highlight how automotive technology could make transportation safer, smarter and more enjoyable.
The Rise of (Semi) Self-Driving Cars
Around the corner for self-driving cars is the transition from driving environments monitored by human drivers to automated systems. Humans would be able to manually override the vehicle, if necessary, but most driving tasks would be handled automatically by the car. Reaching this achievement will be a challenge that requires new automotive innovation. Radar, sensors, cameras, LIDAR and edge computing must work together to gather and process environmental data to inform real-time driving decisions.
More than Self-Driving, Connected Cars Improve Communication
While much attention is paid to developments in autonomous driving, there has been meaningful progress in connected cars that deserve mention. The current trend is vehicle-to-everything (V2X) communication, which enables cars to send and receive data with other devices through links that are high-bandwidth, low-latency, and high-reliability. These information exchanges could help create safer and smarter transportation systems for public, private, and emergency situations.
For simplicity, V2X communication can be sorted into three major buckets: vehicle-to-vehicle (V2V), vehicle-to-infrastructure (V2I), and vehicle-to-pedestrian (V2P). I'll cover each one briefly.
V2V communication looks beyond vehicle radar, sensors, and cameras to help cars communicate about distance, location, and driving decisions – potentially avoiding collisions, excessive speeding, and optimizing traffic flow.
V2I communication exchanges real-time driving data between public transit, private transportation, emergency vehicles, and roadside infrastructure (i.e. stoplights, tolling booths, edge gateways) to make mobility more responsive to changing driving conditions.
V2P communication alerts pedestrians, bicyclists, and other people outside the car when a vehicle in motion could pose a threat, by using over-the-air messages pushed to mobile devices, roadside infrastructure, or other measures.
Outside of V2X, infotainment and navigation systems are getting major upgrades. These features are increasingly becoming standard, providing convenience and entertainment through apps for music, streaming, weather, parking, refueling/recharging stations, and more. If cars become more automated, infotainment might expand to new areas such as in-vehicle shopping or personal services. At the same time, navigation technology is moving from static to high-resolution to connected maps. This shift requires large amounts of data to be stored and processed from 3D maps, operating system software, HMI, and user data.
Regulate to Innovate – The Legal Battle for Driverless Vehicles
After high-profile incidents in the last few years, there is an understandable concern about autonomous vehicles among drivers, passengers, and pedestrians. They worry about how safe this approach to transportation really is, compared to human drivers. To address this issue, many automotive companies have made dramatic changes to their testing policies and procedures for self-driving cars. They are doubling down on safety, such as using multiple human drivers to override vehicles and following new testing protocols. In addition, they are looking to provide greater transparency and access to information about autonomous driving data to regulators and the general public.
It is a delicate balance between regulation and innovation. Federal transportation boards must weigh how to properly oversee self-driving technology as it reaches L4 and L5, without impeding innovation that could prevent accidents and save lives on the road. As one of my colleagues mentioned on another panel at the event, autonomous vehicle technology must be built with safety in mind:
Curious about the audience's stance on driverless car testing, my team decided to do a straw poll. We asked, "How do you feel about self-driving cars testing on public roads today?" The responses were encouraging, as 51 percent of the attendees stated they were nervous about autonomous vehicles, but accept them as a necessary risk. Only 9 percent voted against this type of testing on public roads.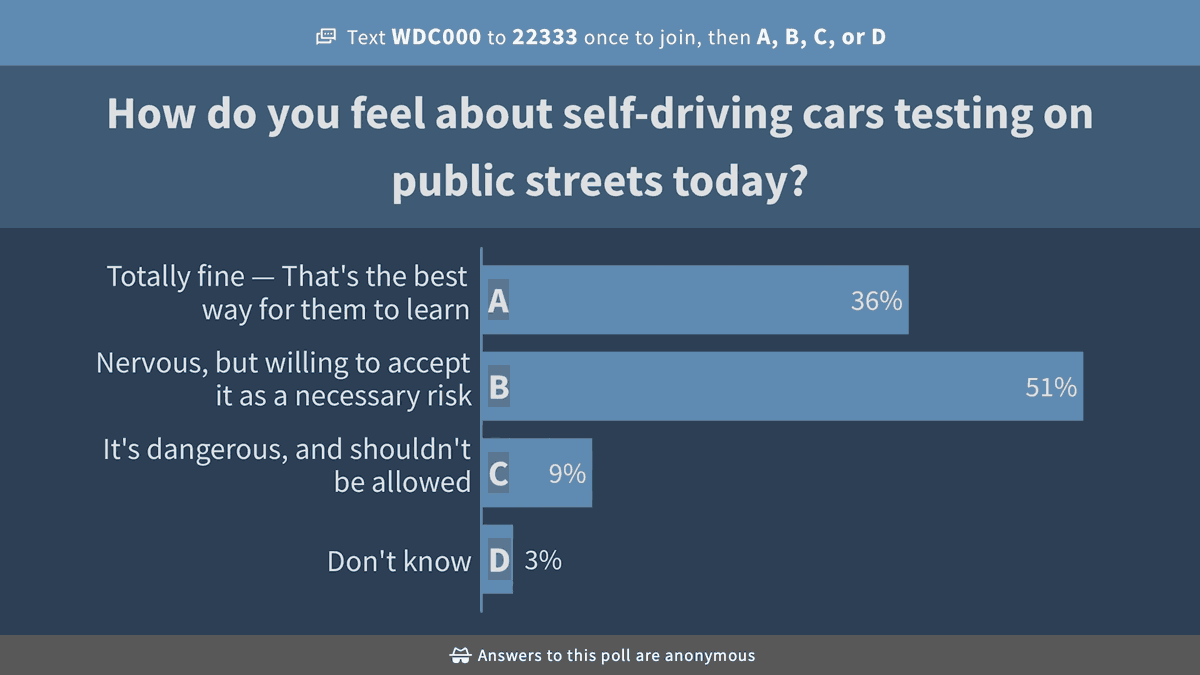 The Automotive Ecosystem Down the Road
Overall, my biggest takeaway is that the way we travel in the future depends greatly on the developments in autonomous driving, V2X communication, and vehicle safety being worked on today. Yet, as I look into the future, there are still many questions to be answered. Will most vehicles be electric or gas-powered? Privately-owned or shared? There is much work to be done, and exciting opportunities to be pursued.
I'm looking forward to seeing even more collaboration between automakers, ecosystem partners, and transportation departments to help vehicles reach new levels of autonomy in the next twenty years, with the goal that they eventually become fully self-driving.
Learn more about the future of mobility and transportation
Forward-Looking Statements
Certain blog and other posts on this website may contain forward-looking statements, including statements relating to expectations for our product portfolio, the market for our products, product development efforts, and the capacities, capabilities and applications of our products. These forward-looking statements are subject to risks and uncertainties that could cause actual results to differ materially from those expressed in the forward-looking statements, including development challenges or delays, supply chain and logistics issues, changes in markets, demand, global economic conditions and other risks and uncertainties listed in Western Digital Corporation's most recent quarterly and annual reports filed with the Securities and Exchange Commission, to which your attention is directed. Readers are cautioned not to place undue reliance on these forward-looking statements and we undertake no obligation to update these forward-looking statements to reflect subsequent events or circumstances.
---