JSME Medal
Earlier this year, five of our engineers in Japan have been awarded the Japan Society of Mechanical Engineers (JSME) Medal for New Technology for the development of our patented HelioSeal® technology, which led to the commercialization of the world's first helium-sealed, high capacity hard disk drive (HDD).
The JSME Medals have a long history and are awarded annually to papers and technologies that demonstrate excellence. It is a prestigious award and the choice of our HelioSeal technology is another validation of our innovation and making helium-sealed drives a pervasive data center storage technology.
The Rise of Helium
It was at the end of last year that we launched the Ultrastar® He12 drive, the world's highest capacity hard disk drive at 12TB. It's a great technological success as well as a manifestation of our solution to the world's insatiable appetite for data.
Recently, my colleague, Clint Ludeman, has written about the rise of helium hard disk drives, and why our helium sealed hard drive is the perfect example of what it takes to make a breakthrough. Since helium has a molecular weight that is one seventh of air, it was clear that it could bring several advantages to hard drives such as reduction in vibration, lower power consumption, reduced noise, and even use of thinner disks enabling higher capacities. However, although many experiments were done, turning these prototypes into products had not been done before. This is because helium is extremely difficult to contain and needed a development of a specific sealing technology in order to make a product viable.
Helium Sealing Technology
Several innovations and breakthroughs needed to come together in order to create our first helium-sealed HDDs.
First, an additional cover made of an aluminum alloy was put on top of the conventional cover and was welded with the base of the HDD by a laser beam. Second, in order to prevent helium leakage from the base, we needed to optimize our manufacturing methods to limit the porosity of the aluminum die-cast and reduce the presence of a certain amount of gas in this same die-cast. Lastly, we succeeded in raising the quality of the weld to a level that allowed for mass production, by selecting the most suitable cover material for sealing and by optimizing the process.
On Display at the National Museum of Nature and Science in Tokyo
This week our award-winning technology is on display at the National Museum of Nature and Science in Tokyo. Visitors of all ages have a chance to learn about helium-sealed hard drive technology, particularly students.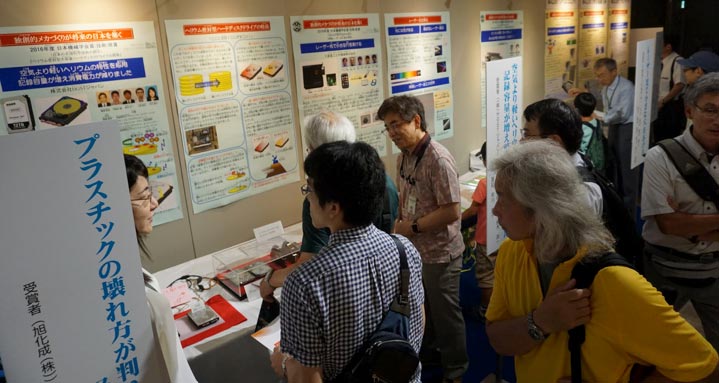 The exhibit provides an explanation of the use and benefits of helium in hard disk drive technology, as well several displays, including:
A demonstration of drive temperature difference between helium-sealed drives and normal hard disk drives in which visitors are invited to touch the drives directly to feel the difference with their hands.
A demonstration of the motor and actuator motion using a hard drive placed in a clear enclosure. In this demo you can see the motor beginning to rotate followed by the head loading, random seek, head unloading and the motor stopping.
A view of our current 8-disk helium-sealed drives as well as previous generation of 7-disk and 5-disk hard drives.
A Future Made Possible by Helium
We're extremely honored that our engineers are the recipient of this award and to showcase our innovation at the National Museum of Nature and Science in Tokyo.
In the nearly four years since market launch, we have shipped worldwide more than 18 million drives that leverage this award-winning technology. The rapid spread of this innovative technology has validated that helium is a core element for increasing HDD capacity in the future.
Learn more about HelioSeal Technology and our helium-sealed drives here.