Do you think that great leaders are born or made? It's a question that's been hotly contested for years. Some might believe that people come into the world with a natural ability to lead. Other people see leadership as a skill that can be taught, learned and developed through life experiences. There could be a little truth in both ways of thinking.
We decided to dig into this topic further by connecting with some of Western Digital's top leaders. All told, they have a combined 113 years of experience working for the company. Each person was asked two simple questions about leadership:
I've succeeded in leadership because … ?

What inspires me to keep going is … ?
What we found out from their insights was the importance of having supportive mentors, making the most of opportunities, and taking the time to build relationships — not just within a team, but across departments and organizations. Here's a look at what makes Western Digital's leaders successful and inspires them to continue their careers.
Charlene Wan, Marketing Programs Director
At Western Digital since 2012. Currently taking EIS marketing to the next level. I was a ballerina!
I've succeeded in leadership because …
To me, leadership is earned over time not by title but by your actions and intentions. I build trust and keep my promises. I lead in the same way that I'd like to be led with the freedom to express and guidance to not get lost.
What inspires me to keep going is …
The teams with whom I spend my life. For all the successes we've accomplished and the setbacks we experienced. The camaraderie we have built peaks and valleys. We share the same goals and commit to each other through this journey. It's like a family where you feel like you belong, feel safe, and can excel and be at your best.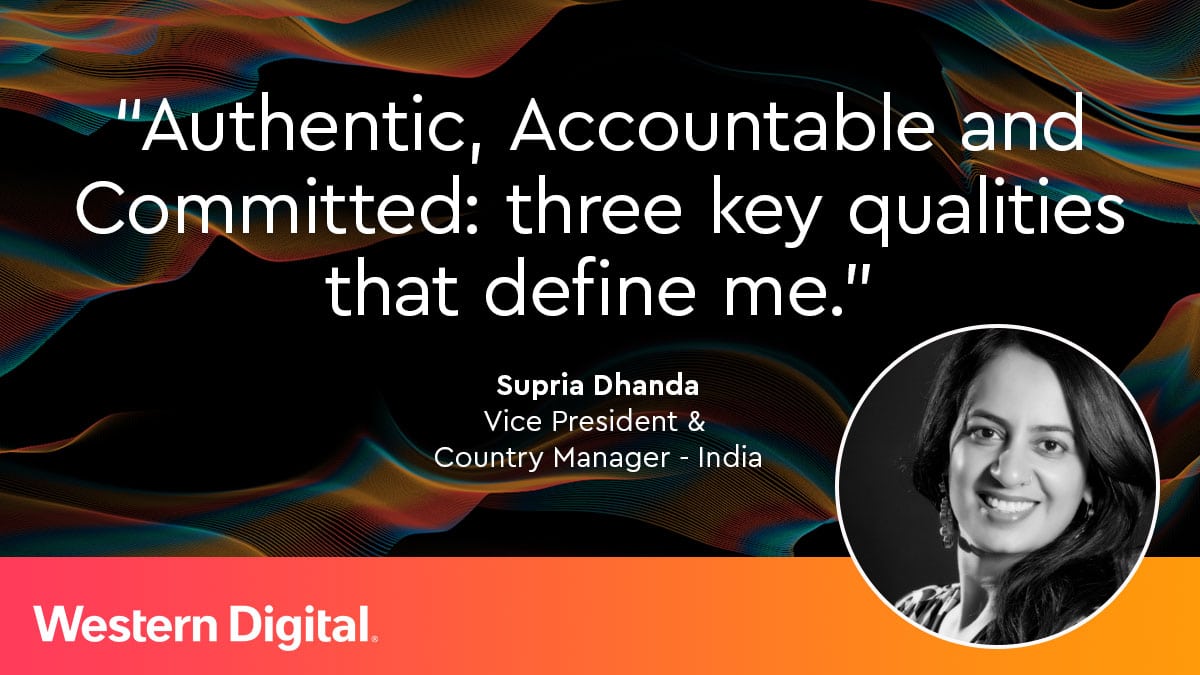 Supria Dhanda, VP & Country Manager – India
At Western Digital since 2012. Currently establishing India as a Strategic Priority Market. I am a budding golfer!

I've succeeded in leadership because …
As a leader, being Authentic, Accountable and Committed are three key qualities that define me. I am also extremely passionate about and love working with people and teams. Different experiences such as doing manufacturing finance for a year, being an entrepreneur and the entire gamut of meeting with VCs, business modeling, running a business being invaluable, and also gaining certifications such as Green Belt in Six Sigma, ICF certified Executive Coach, have shaped me well as a leader.
What inspires me to keep going is …
The role of Country Manager is like wearing multiple hats in a single day, as it is multifaceted and interdisciplinary. It not only challenges but also energizes me to do more each day, every day. My team and I are setting the foundation for Western Digital India to potentially grow into one of our biggest markets. This opportunity is extremely exciting and certainly has me drinking more coffee than usual! I stay enthusiastic and motivated from the insightful nuggets of wisdom from my leaders, marathon and sprint discussions with multiple teams and sheer passion and energy of everyone around.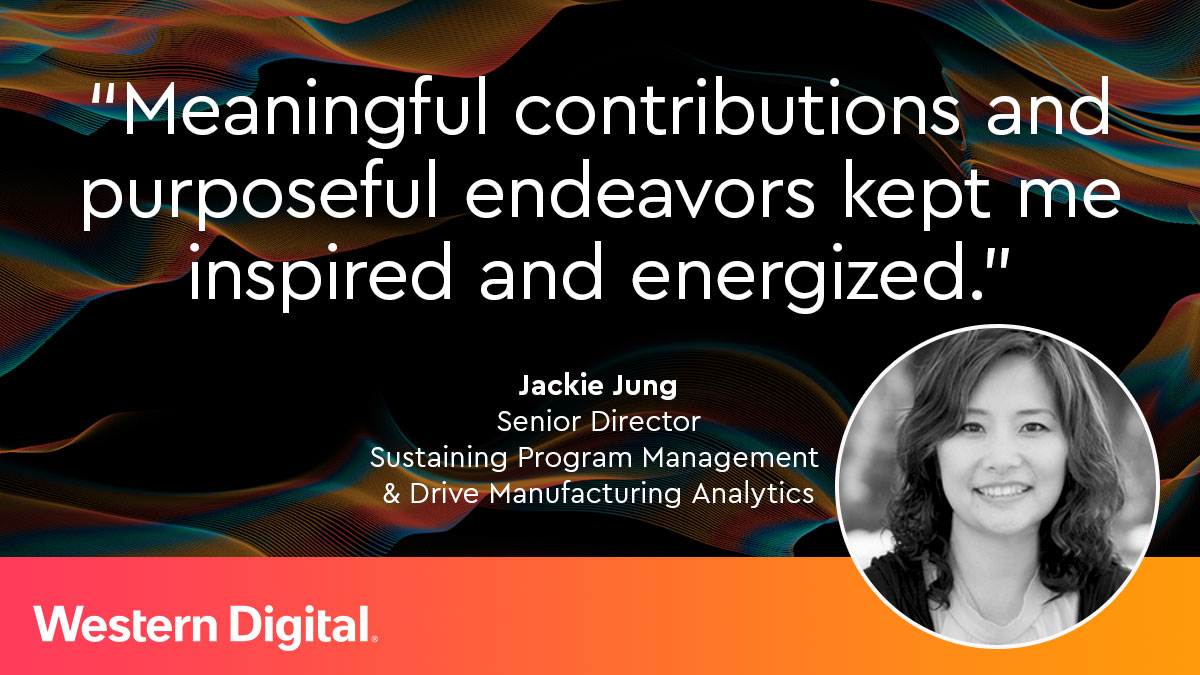 Jackie Jung, Senior Director of Sustaining Program Management & Drive Manufacturing Analytics
At Western Digital since 1996. Currently working on SMART factory initiatives in Operations. I love opera and Carmen is my favorite!
I've succeeded in leadership because …
I am an assertive driver. My metric and process driven approach and a passion for delivering results define my leadership style. The past few years, Western Digital's leadership team has entrusted me with new endeavors including international assignments, joining a new business unit and pioneering cutting-edge AI technologies. These experiences built up my confidence and readiness to champion anything new, exciting and of course, difficult too!
What inspires me to keep going is …
Meaningful contributions and purposeful endeavors kept me inspired and energized. Establishing PMO in operations has been a successful initiative for Western Digital and rewarding experience for me and I look forward to expanding its coverage. The new, exciting BIG thing is SMART factory. Imagine a factory that will self-optimize and self-adapt, powered by autonomous runs and Artificial Intelligence!
Celeste Cooper, Chief of Staff, CTO Office
At Western Digital since 2017. Currently driving our RISC-V initiatives. I am most comfortable outside of my comfort zone!
I've succeeded in leadership because …
I have pivoted and taken advantage of opportunities as they have come up in my career. Early in my career when I was a network engineer, a VP, three levels above asked me to drive a company-wide initiative to standardize connectivity in the company's offices. I was terrified. I had to work with the senior architects and get them to agree on a standard and lay out a plan for implementation. She empowered me to lead the effort. I enjoyed working with the team and leading them. This changed the direction of my career. I never had a master plan or goal of being Chief of Staff. I took advantage of opportunities, learned from all of my experiences, and pursued the things that I enjoy. Sure, I have made mistakes, but I have learned from those mistakes. All of this has helped me succeed in leadership.
The most important thing that has made me successful is the people in my teams. Building the right mix of people and enabling them through empowerment and coaching is the recipe for success. I learned this from some of the great leaders I have worked with over the years. I have also seen what doesn't work so well. Remember, you have a choice of who you work for in your career. If it isn't someone supportive, move on.
What inspires me to keep going is …
I love my role at Western Digital because I am constantly learning and trying to accomplish things that are challenging. I also am fortunate to work for someone that is extremely supportive of my role.
Elizabeth Zimmermann, Senior Director of Global EHS & Security
At Western Digital since 1998. Currently demonstrating how our IMS is the foundation of our corporate sustainability. I am passionate about gardening!
I've succeeded in leadership because …
I recognize my strengths and limitations. I surround myself with people who not only complement my strengths but more importantly augment where needed. I strive to create a team that is stronger than the individual and whose members feel valued for their contributions.
What inspires me to keep going is …
I am honored to lead a global team of professionals who are passionate about protecting the health, safety and security of our employees and our environment. I am supported by a leadership team that values our contributions and gives us the backing we need to succeed on behalf of the company.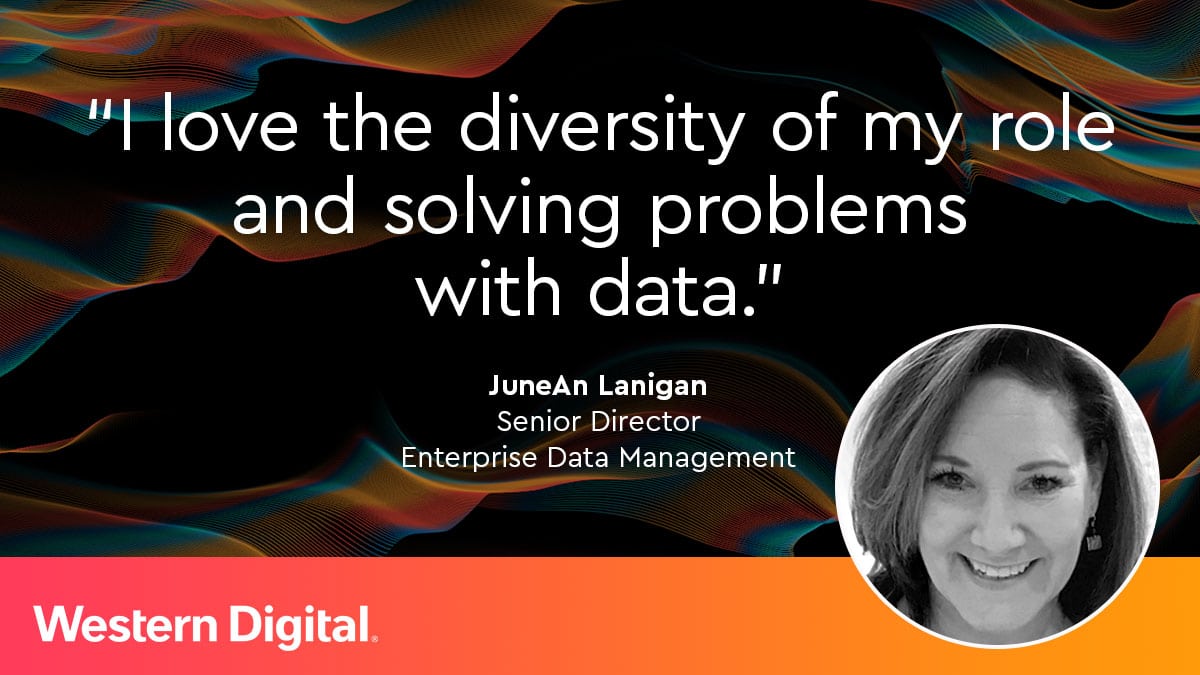 JuneAn Lanigan, Senior Director of Enterprise Data Management
At Western Digital since 2014. Currently extending our Big Data ecosystem to include fast data at the edge for real-time data streaming and analytics. Proud to be a fully registered Native American Indian!
I've succeeded in leadership because …
I learned very early in my career to focus on delivering business results through the integration of people, process, technology and data. I've also learned to invest heavily in coaching leaders & managers and developing high performing teams that are fully aligned. With the right focus, the right leadership, and a common goal, we can accomplish unprecedented capabilities for the organization and our company's customers … and that's fun!
What inspires me to keep going is …
I love the diversity of my role and that my teams touch all functional groups across the enterprise, globally! I also love solving problems with data. So, whether we are bridging the gap of Western Digital transformation with Integrated Reporting in advance of a common ERP, or teaching people the value of intentionally managing our most valuable data assets, or implementing a common Customer or Product Master for transacting and reporting, or partnering with DCS and Marketing on best in class Fast Data architectures, we are taking the company to a new level of innovation and operational excellence. That is very rewarding and motivating! I love telling our Western Digital data management story internally to our Customers, our Partners and outside interest communities.
Tiffany Scurry, Chief Compliance Officer
At Western Digital since 2010. Currently ensuring Western Digital remains a World's Most Ethical Company®. I've parachuted out of a plane (not so risk-averse!)
I've succeeded in leadership because …
I think a lot about what can be better. I ask colleagues and mentors – how can I be better? I ask myself – how can our program be better? I help my team explore – how can they be better? Then I make plans for us to work on specific things.
What inspires me to keep going is …
My team and my colleagues help and inspire me. We have a supportive culture in the Legal Department. I am surrounded by brilliant minds and kind hearts – it's a terrific place.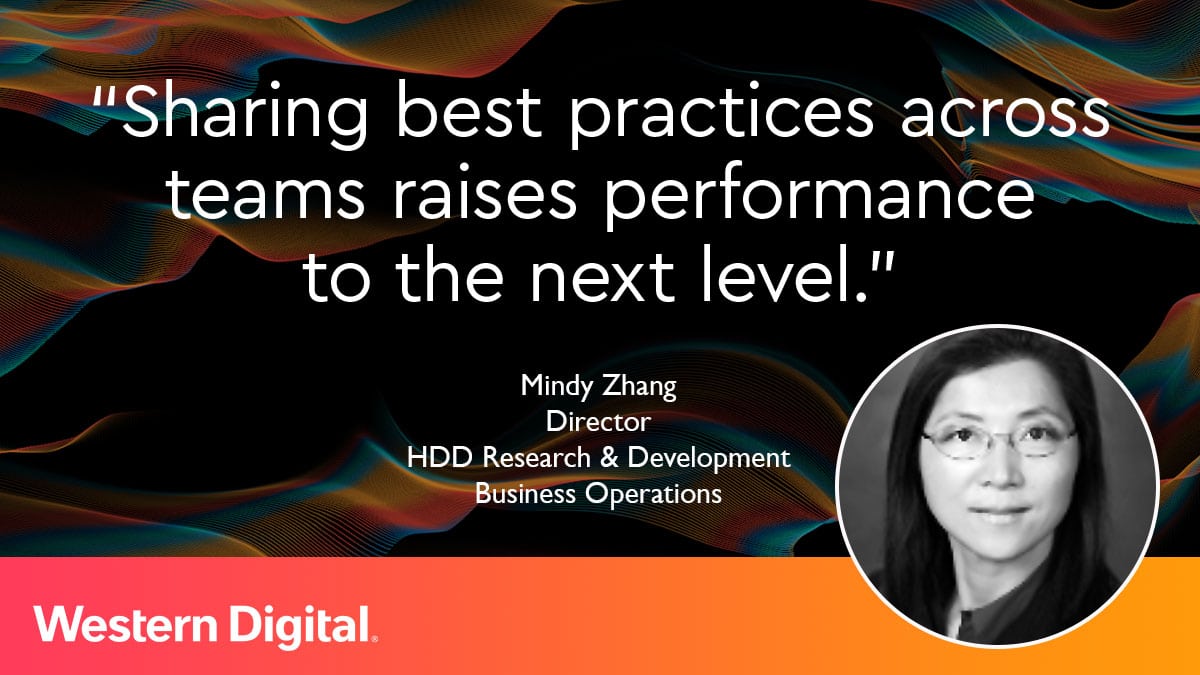 Mindy Zhang, Director of HDD Research & Development, Business Operations
At Western Digital since 2002. Currently leading HDD R&D business operations, supporting the development of the next products that will impact the world. I sing in a barbershop chorus!
I've succeeded in leadership because …
Throughout the years of working here, I had many great opportunities to work in different functions and with different teams. Flexibility and cross-functional teamwork have created more opportunities for my personal development and business impact. When you go out of your way to share the best practice among other teams it raises the overall performance to the next level.
What inspires me to keep going is …
I feel lucky and privileged to work for a great and historic company. The most important thing of all, the single most awesome and inspiring aspect of my career so far, and the one reason above all others that my time here has been so special it's the people.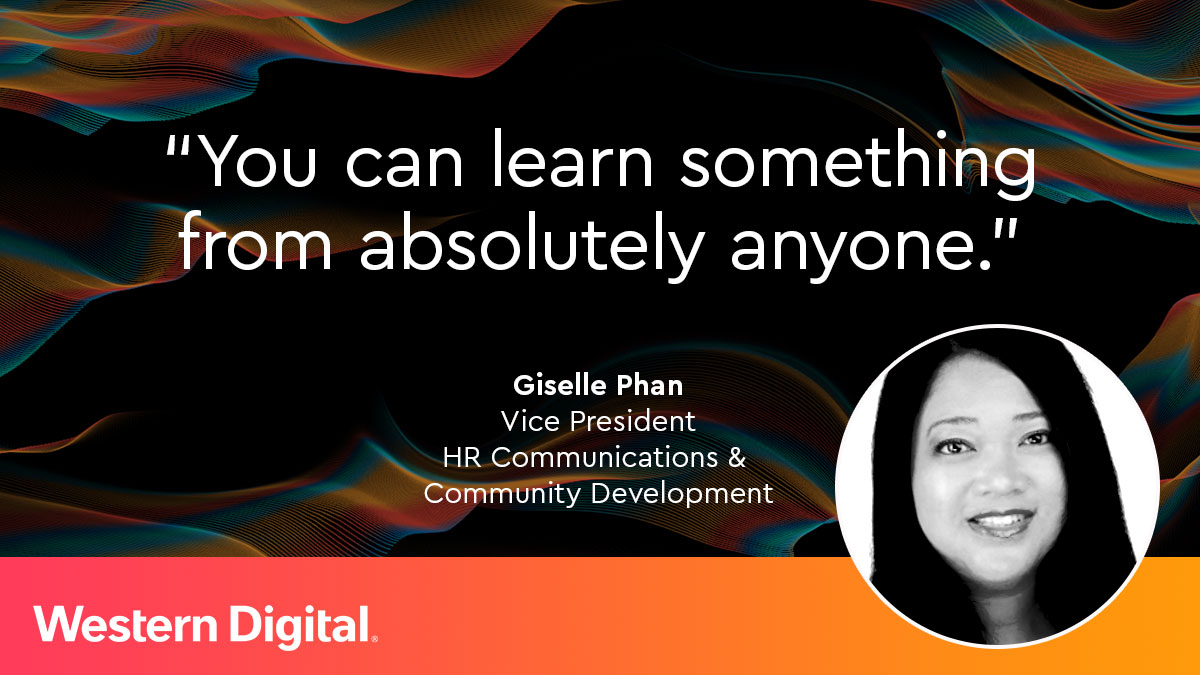 Giselle Phan, Vice President of HR Communications & Community Development
At Western Digital since 1997. Currently engaging talent and building community both internally at Western Digital and externally around the world. I have an English Bulldog named Maui (not island in Hawaii, but the mighty demigod in the Disney movie Moana)
I've succeeded in leadership because …
I embraced the diversity of thought and inclusion of all people. Throughout my career, I've spent countless hours learning about the journeys of engineers and technologies they invented, partnered with executives on business strategies, and listened to interns share innovative ways that companies can be more progressive. The knowledge I gained and applied has been critical to my leadership path. I was fortunate to have had amazing mentors and bosses who supported my path to success.
What inspires me to keep going is …
Leading people on my team in our global communities with hunger relief, environmental preservation, STEM education, and disaster relief initiatives. I'm also helping promote employee engagement, showcase HR programs and processes, and foster community at Western Digital. Knowing my contributions can create progress towards a path where opportunities for women in the workplace are endless for when my four daughters enter the workforce… this all keeps me going!