In a recent blog post, we talked about how the current digital environment is accelerating connected technology adoption and innovation. Now, we focus on the rapidly evolving Internet of Things (IoT) landscape – with an estimated 41.6 billion connected devices generating 79.4 zettabytes (ZB) of data in the year 2025[1]. Connected machines, fueled by the Industry 4.0 transition and wearables, are projected to contribute an increasing amount of IoT data. A robust data architecture is critical to properly capture, preserve, access, and transform this data in its journey – not just in cloud data centers, but at edge servers and endpoints.
In this blog post, I'll discuss getting the most value out of IoT data and moving from general-purpose to purpose-built data storage. But first, let's define the IoT data journey.
Cloud, Edge, Endpoints – The IoT Data Journey
We start in the cloud, where high-capacity drives – now reaching 20TB – store massive amounts of data (including from IoT devices) for big data use cases. These could include genomic research, batch analytics, predictive modeling, and supply chain optimization. Then, we migrate to the edge, where data is often cached in distributed, edge servers for real-time applications such as autonomous vehicles, cloud gaming, manufacturing robotics, and 4K/8K video streaming. Finally, we reach the endpoints, where data is generated by connected machines, smart devices, and wearables. The key is to reduce network latencies and increase throughput between these layers (cloud-to-edge, edge-to-endpoints) for data-intensive use cases. 5G could offer a potential solution by using millimeter wave (mmWave) bands between 20-100 GHz to create "data superhighways" for latency and bandwidth sensitive innovations.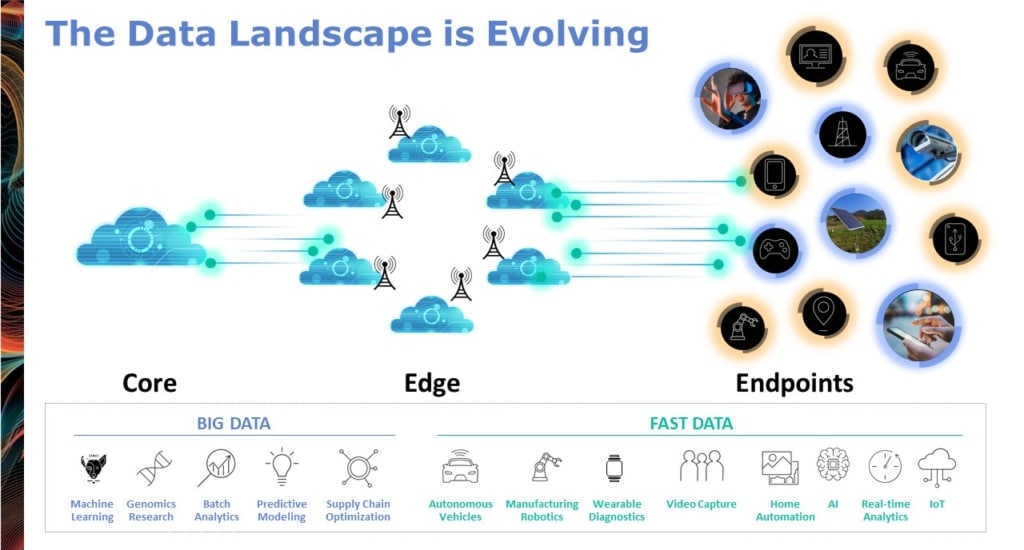 Finding Out What Your IoT Data is Worth
Now that we've discussed the journey of IoT data, let's talk about data infrastructure. Infrastructure is critical in our digital world because data must be stored and analyzed quickly, efficiently, and securely. Thus, data architecture need to go beyond generation and transformation to find ways to create business value from data. Here are a couple examples of this data generation –> transformation –> value creation approach.
Autonomous and Connected Vehicles
These large-scale IoT devices are loaded with sensors, cameras, LIDAR, radar, and other devices generating data – estimated to reach 2TB+ per day. That data is used to inform real-time driving decisions using technologies such as 3D-mapping, advanced driver assistance systems (ADAS), over-the-air (OTA) updates, and vehicle-to-everything (V2X) communication. In addition, IoT data creates value in personalized infotainment and in-vehicle services that improves the passenger experience.
Medical Devices and Wearables
By 2022, over 1 billion wearable devices are predicted to be in use around the world – generating data to track sleep patterns, measure daily movements, and identify nutrition and blood oxygen levels[2]. This IoT data can be transformed into daily, monthly, and yearly trends that identify opportunities to improve health habits using data-informed decisions. Such data could also create more personalized and proactive treatments, especially as telehealth and remote healthcare continue to progress.
Maximizing the Value of IoT Data
The ability to capture, preserve, access, and transform becomes critical to get the best use out of IoT data. We explore a few popular IoT use cases through this lens and detail the major factors to take into consideration when building out IoT infrastructure.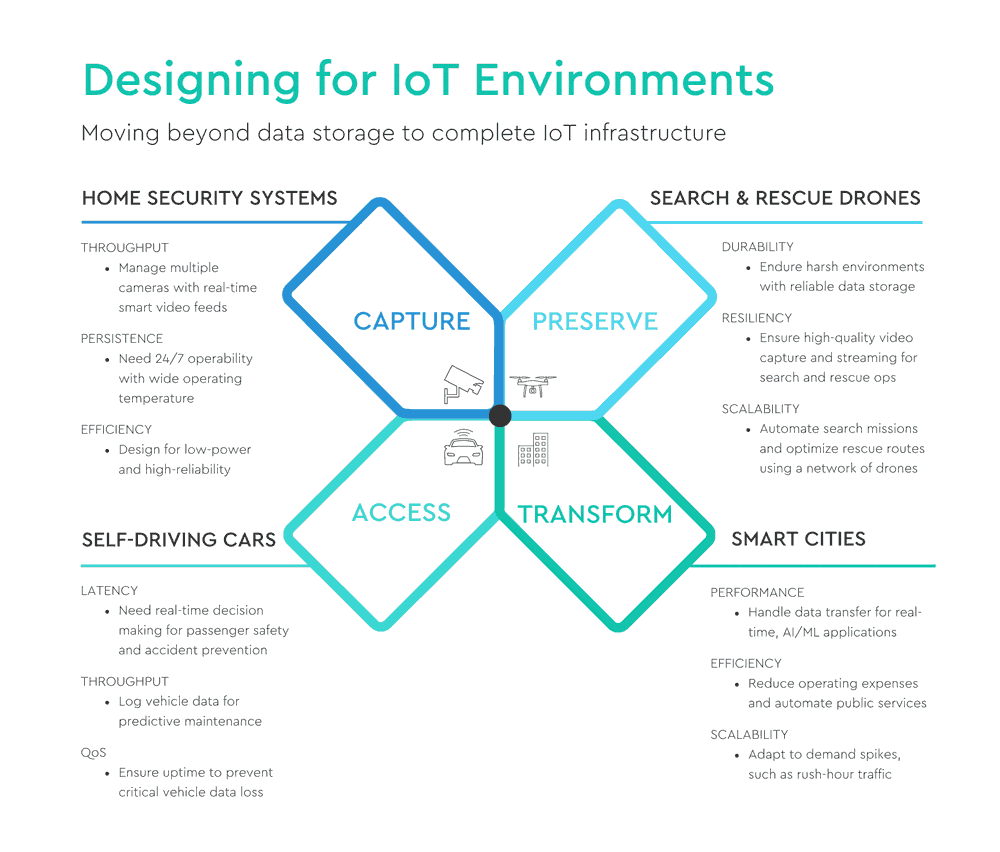 Toward Purpose-Built Architecture
Many businesses still use general-purpose architecture to manage their IoT data. But, general-purpose compute architecture does not fully meet the needs of IoT applications and workloads for consumers and enterprises. Purpose-built architecture uses devices, platforms, systems, and solutions that maximize the value of data for real-time IoT use cases. Your storage strategy has to be designed specifically for IoT, and address the following questions.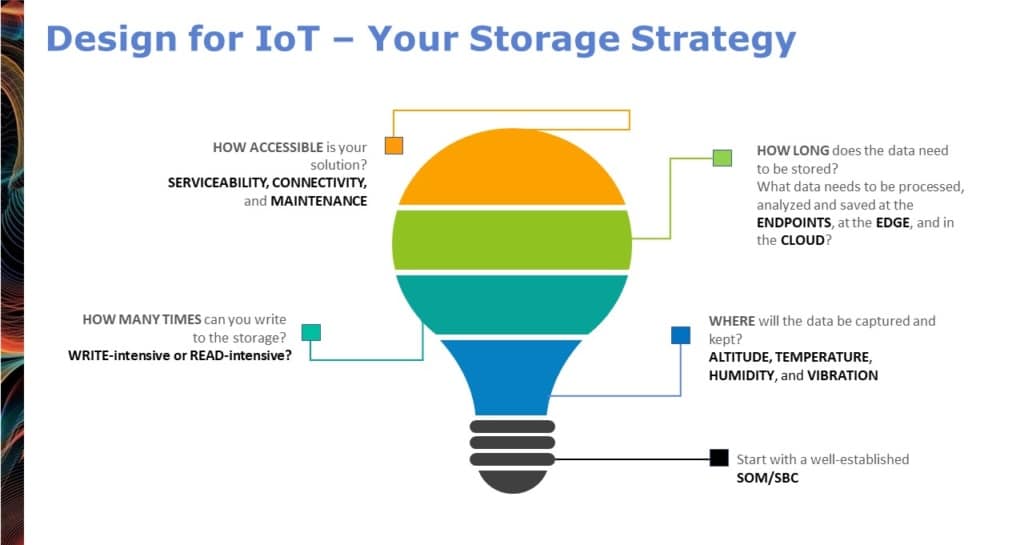 A Leading Portfolio of IoT Solutions
Taking advantage of the evolving IoT data landscape means moving from storage to value creation using purpose-built data architecture. From embedded to removable flash storage solutions, we know how to extract more value at every step of the IoT data journey.
Our industrial-grade e.MMC and UFS embedded flash drives provide high endurance and reliability for industrial applications across a wide range of operational requirements.
Our industrial-grade SD™ and microSD™ cards deliver fast read/write performance that enables high bit-rate video streams for commercial imaging applications such as smart and industrial IoT.
And, our NVMe™ and SATA SSDs are used in industrial settings for automated machines, IoT edge gateways, networking equipment, embedded PCs, and more.
Continue Your IoT Journey
I encourage you to check out these featured articles about connected technologies, straight from Western Digital's data experts and leaders.
---
Forward-Looking Statements
Certain blog and other posts on this website may contain forward-looking statements, including statements relating to expectations for our product portfolio, the market for our products, product development efforts, and the capacities, capabilities and applications of our products. These forward-looking statements are subject to risks and uncertainties that could cause actual results to differ materially from those expressed in the forward-looking statements, including development challenges or delays, supply chain and logistics issues, changes in markets, demand, global economic conditions and other risks and uncertainties listed in Western Digital Corporation's most recent quarterly and annual reports filed with the Securities and Exchange Commission, to which your attention is directed. Readers are cautioned not to place undue reliance on these forward-looking statements and we undertake no obligation to update these forward-looking statements to reflect subsequent events or circumstances.
[1] The Growth in Connected IoT Devices Is Expected to Generate 79.4ZB of Data in 2025, According to a New IDC Forecast
[2] Cisco Visual Networking Index: Global Mobile Data Traffic Forecast update, 2017-2022.